Overnight Muffins by Anna Gare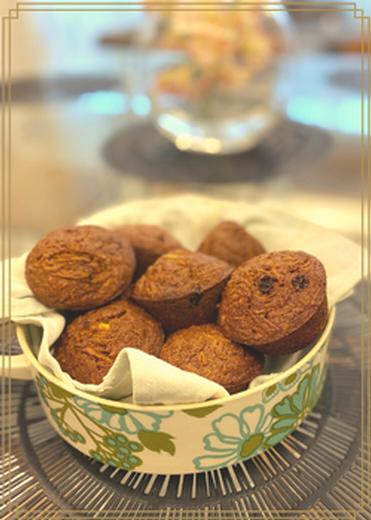 Recipe Date:
28 April 2022
Ingredients
3 eggs
1 cup vegetable oil
1 tsp vanilla essence
1 1/4 cups caster sugar
1/2 cup pineapple juice
2 cups grated carrots (about 2 large carrots)
1/2 cup pecans, roughly chopped
1/2 cup shredded coconut
2 apples, grated
1/2 cup sultanas
2 cups plain flour
2 tsp bicarbonate of soda, sifted
2 tsp ground cinnamon
Directions
Whisk together the eggs, oil, vanilla, sugar and juice in a large bowl until the mixture is well combined and creamy.
Add the remaining ingredients to the bowl and stir until well combined. Cover the bowl and refrigerate the mixture overnight. (You can cook the muffins straight away, but the mixture does improve after resting overnight. The batter will also keep in the fridge for a few days if you can't bake the next morning.)
When ready to bake, preheat the oven to 180ºC. Spoon the muffin batter into lightly oiled muffin tins, almost to the top. The mix does not rise too much, so you can be quite generous.
Bake the muffins in the oven on the centre shelf for 25 - 40 minutes (depending on the size of your muffin tray), until golden and a skewer inserted in the centre comes out clean.
Store cooled muffins in an airtight container for a few days, or freeze for later - but they are best eaten hot and fresh from the oven!