Mulled Wine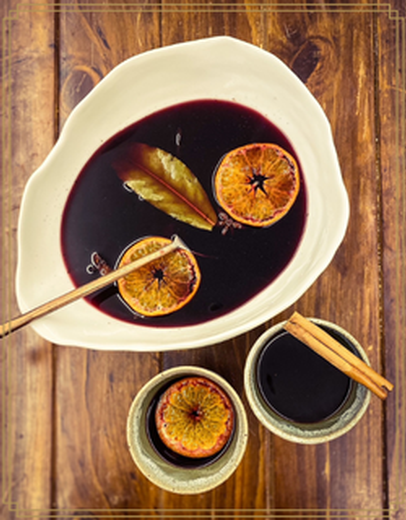 Ingredients
2 clementines (substitute seedless mandarines or small oranges)
1 lemon
1 lime
200 g caster sugar
6 cloves, whole
1 cinnamon stick
3 fresh bay leaves
1 whole nutmeg
1 vanilla pod
2 bottles (1.5L) fruit-forward red wine
2 star anise
Directions
Peel thick strips of zest from the citrus fruits using a peeler or sharp knife. (You don't want to have too much of the bitter white pith still attached.)
In a large saucepan over medium heat, add the sugar, citrus peel, and squeeze in the juice from the clementines. Add the cloves, cinnamon stick, bay leaves and 10-12 gratings of nutmeg. Halve the vanilla pod lengthways and add to the pan, and pour in enough red wine to just cover the sugar.
Stir to combine, and then bring to a simmer until the sugar has completely dissolved. Bring to the boil, and keep the mixture boiling for 4-5 minutes, until you have a beautiful thick syrup. This allows the spices and zest to infuse and create a rich flavour base before adding the rest of the wine - so you don't burn off the alcohol!
Once the syrup is ready, add the rest of the wine and the star anise, reduce heat to low, and gently heat for about 5 minutes until the liquid is just about to come to a simmer. Ladle into glasses and serve, with slices of lemon or orange if desired.
(Note: While fresh bay leaves and whole nutmeg give better flavour, we have also made this recipe successfully with dried bay and a generous pinch of ground nutmeg! Recipe adapted from 'Jamie Cooks Christmas' by Jamie Oliver.)