Mr. B's New Orleans Crab Cakes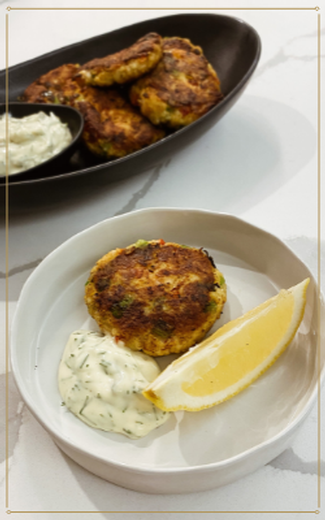 Recipe Date:
3 March 2022
Ingredients
450 g Jumbo Lump crabmeat, or other white crabmeat
half medium red capsicum, finely diced
half medium green capsicum, finely diced
1/3 cup mayonnaise
1/4 cup Panko breadcrumbs
3 spring onions, finely sliced
juice of a quarter of a lemon
1/4 tsp hot sauce
1/4 tsp Creole seasoning
1/2 cup plain flour
1/2 tsp salt
1/4 tsp freshly ground black pepper
30 g unsalted butter
Directions
In a large bowl, combine crabmeat, capsicum, mayonnaise, breadcrumbs, spring onions, lemon juice, hot sauce and Creole seasoning, being careful not to break up the crabmeat too much.
Using a round cookie cutter (about 6cm) fill the cutter with crab mixture and press down to form into cakes. Place on a lined baking tray and chill, uncovered, in the fridge for one hour to help set the mixture.
Combine flour, salt and pepper on a plate and lightly dust the cakes in flour.
In a large frying pan, melt half the butter. Add half of the crab cakes and cook over moderate heat until golden brown, about 90 seconds each side. Set aside, melt the remaining butter and cook the rest of the crab cakes. Serve with a ravigote or tartar sauce.
Serves six as a starter, or four for a light lunch or dinner.
If you have trouble finding Creole seasoning in the supermarket, you can make your own! Mix 2½ TBSP paprika, 1½ TBSP salt, 1 TBSP onion powder, 1 TBSP garlic powder, 1 TBSP dried oregano, 1 TBSP dried basil, 2 tsp dried thyme, 2 tsp black pepper, 2 tsp white pepper and 2 tsp cayenne pepper in a small bowl, and store in an airtight container.