Maple Roast Pumpkin, Ricotta & Walnut Galette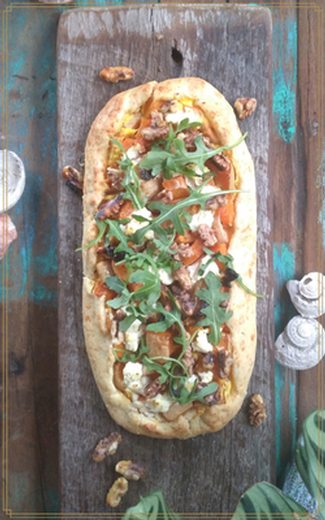 Recipe Date:
13 October 2022
Ingredients
650g butternut pumpkin, cut into 3cm pieces
6 French shallots (eschalots), peeled and halved
1 tbsp maple syrup
2 tbsp extra virgin olive oil
150g fresh ricotta
1 egg yolk
1/2 cup walnuts, toasted
2 cups watercress or rocket leaves
2 tsp balsamic vinegar
1 1/2 cups (225g) plain flour
1/2 cup (30g) finely grated parmesan cheese
125g butter, chilled, cut into cubes
Directions
Preheat the oven to 230°C (220°C fan-forced). Combine pumpkin and shallots in a lightly greased roasting pan. Whisk maple syrup and half the olive oil together and pour over the pumpkin mixture. Season with salt and pepper and toss gently to coat. Roast for 15 minutes until light golden and vegetables are just tender. Cool for 15 minutes.
To make the parmesan pastry, combine flour, parmesan and butter in a food processor and blitz until mixture resembles fine breadcrumbs. Add 1/4 cup chilled water and process until mixture just comes together. Turn onto a lightly floured surface and knead gently until smooth, then shape into a rectangle. Wrap in greaseproof paper or cling film and chill for about 15 minutes until firm enough to roll.
Reduce the oven temperature to 210°C (200°C fan-forced) and pre-heat a large flat baking tray. On a sheet of baking paper cut to fit the tray, roll out the pastry to a rectangle approximately 16 x 34cm.
Beat together 80g of the ricotta with the egg yolk. Carefully spread the mixture over the pastry, leaving a 1-2cm border around the edges. Arrange pumpkin and shallots on top of the ricotta leaving a generous border around the vegetables. Crumble over the remaining ricotta and fold the pastry edges up and over the vegetables, leaving most of the filling exposed. Galettes are meant to be rustic, so don't worry if it looks a little rough around the edges or if there are any little tears! Brush the pastry with a little water and season with salt and pepper.
Slide the galette onto the pre-heated tray and bake for about 30 minutes, or until pastry is golden and crisp. Toss walnuts, greens, remaining oil and balsamic together and scatter over the tart. Slice, and serve with Singlefile Great Southern Rosé!
Recipe from The Outdoor Room magazine, Autumn 2011