King Salmon, Horseradish & Sea Vegetables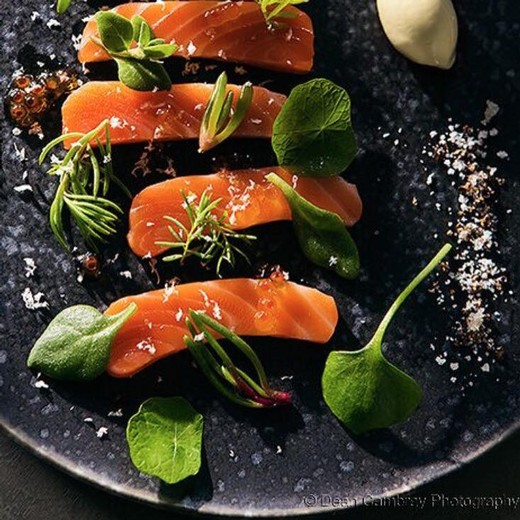 Recipe Date:
10 August 2020
Scott Pickett: Cured salmon is another classic of the French kitchen, This is my version, and one I love matching with a pale and dry Rosé such as the Singlefile Great Southern Rosé. Note: this dish does require at least 36 hours of curing. Ensure you start preparations a few days out.
Ingredients
1 side of king salmon, skin on, and pinboned
200 g coarse salt
200 g sugar
2 lemons, zest and juice
1 lime, zest and juice
1 tbs crushed corianter seeds
1 crushed white peppercorns
1.5 bunch dill, washed and patted dry, roots removed
200 ml whipping cream (for the horseradish cream)
1 tbs grated horseradish (for the horseradish cream)
1 juice of one lemon (for the horseradish cream)
1 salt and pepper (for the horseradish cream)
1 succulents and sea-herbs (such as samphire), edible flowers, salmon roe (to finish)
1 extra virgin olive oil (to finish)
Directions
For the cure mix:
Mix together all the ingredients other than the salmon (and horseradish cream).
To cure the salmon:
Lightly score the skin of the salmon. Rub some of the cure mix on to the skin, place in a large glass or ceramic container, and use about half the cure mixture to cover the fish.
Cover lightly, leave for 12 hours in the refrigerator.
After 12 hours, turn the salmon and rub the remaining curing mixture into the flesh and skin. Cure for another 12 hours.
The flesh should be quite firm.
Rinse quickly under cold water, then pat dry. Leave in the refrigerator, uncovered, for a further 12 - 18 hours.
For the horseradish cream:
Whip the cream until soft peaks form, Add the grated horseradish and lemon juice, season. Allow the cream to rest for a least an hour for the flavours to develop.
To serve:
Slice the cured salmon thickly (2cm slices). Arrange on plates, garnish each one with a spoonful of horseradish cream. Finish with succulents, coastal herbs, or garden herbs and flowers. Add a little salmon caviar and a sprinkle of olive oil.
Recipe courtesy of Scott Pickett from Estelle.