Furikake Fries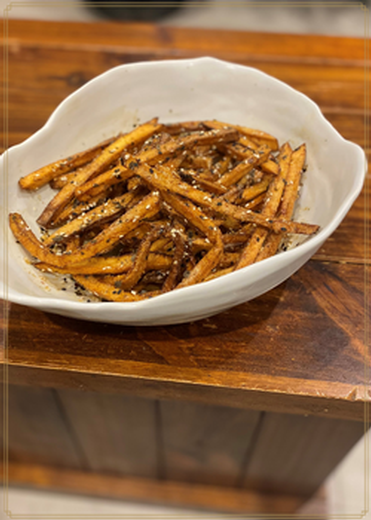 Recipe Date:
19 January 2023
Ingredients
FOR THE SEASONING MIX
1 dried nori sheet
3 tbs garlic granules
1 tsp chilli flakes
6 tsp (1.5 tbs) white sesame seeds
2 tsp black sesame seeds
FOR THE FRIES
1 kg brushed potatoes
1.5 litres vegetable oil, for frying
FOR THE STICKY GLAZE
2 tbs honey
1 tbs fish sauce
1 tbs oyster sauce
Directions
Note: while this recipe calls for you to cut and fry your own potatoes, the glaze and seasoning would be equally good added to some frozen shoestring fries after cooking until crispy in the oven - so skip the deep frying if you want to!
For the seasoning mix, tear up the nori sheet and add to a food processor with the garlic granules and chilli flakes. Blitz until the nori has broken up into small pieces. Transfer to a bowl and stir in the white and black sesame seeds to combine. Set aside.
To make the fries, thinly slice the potatoes and cut into thin matchsticks, adding them to a bowl of cold water as you go to prevent them going brown. Heat the oil in a large saucepan over high heat. When the oil is hot, drop in a piece of potato - if it rises to the top, the oil is ready for frying.
Heat the oven to 160°C and line a couple of baking trays with kitchen towel. Dry the potato matchsticks in a clean tea towel, then add a large handful into the oil. (Don't overcrowd the pan, fry them in 4-5 batches.) Remove the fries from the oil with a slotted or mesh spoon after about 3 minutes, when they are golden brown. Add to the prepared tray and place in the oven to keep warm while you fry the remaining chips.
Once they are all fried, add the hot chips to a serving dish. Mix together the glaze ingredients in a small bowl. (If your honey is a little stiff and not combining with the other ingredients, you can microwave the glaze for 10-15 seconds to melt it). Drizzle the glaze all over the chips and toss to coat evenly, then sprinkle generously with the furikake seasoning and serve while still hot.
Adapted from a recipe by 'Great British Bake Off' winner Nadiya Hussain