French Strawberry Dessert Cake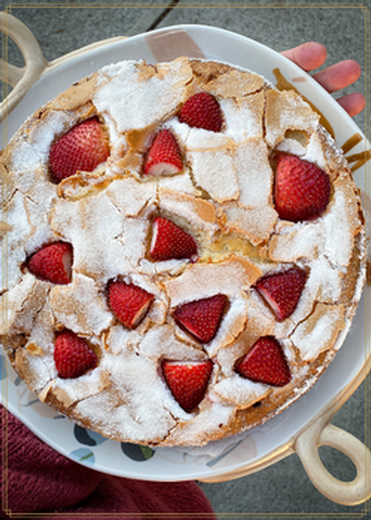 Recipe Date:
2 February 2023
Ingredients
125 g butter, at room temperature
2 tsp vanilla extract
270 g (1 1/4 cups) caster sugar
2 eggs
1/4 tsp salt
225 g (1 1/2 cups) self-raising flour, plus an extra tablespoon
170 g (2/3 cup) sour cream
375 g fresh strawberries, hulled
Directions
Preheat oven to 180°C (160°C fan-forced). Grease and line base and sides of a 23cm round springform cake tin with baking paper.
Use electric beaters or a stand mixer to beat the butter, vanilla and 1 cup of the sugar in a large bowl until pale and creamy. Add the eggs, one at a time, beating well after each addition. Add salt and half the flour and beat until just combined. Add half the sour cream and beat until just combined. Repeat with remaining flour and sour cream.
Halve 125g of the strawberries and set aside. Coarsely chop the remaining strawberries, and toss with the extra flour to coat. Fold the chopped strawberries gently into the cake mixture until just combined. Spoon the mixture into prepared pan and smooth the surface.
Sprinkly the top of the batter with 1 1/2 tablespoons of the remaining sugar. Bake for 35 - 40 minutes or until a thin crust has formed on the top. Arrange the halved strawberries, cut side down, evenly over the cake, and push them gently into the crust. Sprinkle with remaining sugar and bake for another 20 - 25 minutes until a skewer inserted in the centre comes out clean. Serve warm or at room temperature, ideally with a glass of sparkling wine!
Recipe by Liz Macri