Duck, Chicken & Pistachio Terrine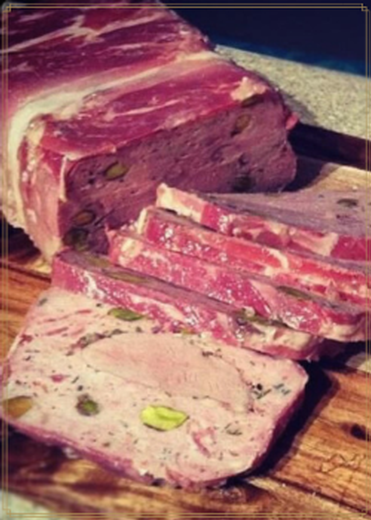 Recipe Date:
20 July 2023
Ingredients
4 duck breast fillets, skin removed
125 ml (1/2 cup) brandy
5 cloves garlic, crushed
1 tbsp thyme leaves, plus 2 tbsp extra thyme leaves
20 long thin slices of prosciutto
550 g chicken mince (coarse minced, if possible)
550 g pork mince (coarse minced, if possible)
1 tbsp each sea salt and cracked black pepper
90 g (1/2 cup) shelled pistachios
80 g flat pancetta, chopped
2 eggwhites (reserve yolks for another use)
Directions
Start this recipe the day before you wish to serve it.
Place the duck breasts, half the brandy (1/4 cup), 2 cloves of crushed garlic, and 1 tbsp thyme leaves in a bowl. Mix to coat then refrigerate for two hours to marinate.
Preheat oven to 180°C. Lightly grease a 32cm x 8cm x 8cm loaf or terrine tin. (Note: we have used a 'standard' loaf tin around 25cm x 11cm and the recipe still worked fine!) Line the prepared tin with the slices of prosciutto, slightly overlapping them so there are no gaps, and leaving a generous overhang to enclose the terrine filling, then set the tin aside.
Remove the duck breasts from the marinade, reserving marinade in the bowl. In a separate large bowl, place both minces, extra 2 tbsp thyme leaves, remaining 1/4 cup of brandy, remaining 3 cloves crushed garlic, salt, pepper, pistachios, chopped pancetta, eggwhite and reserved marinade. Mix well to combine. Use about half the mixture to fill your prosciutto-lined tin just under half full, top evenly with the duck breasts, then fill tin with remaining mince mixture, pressing to flatten. Fold over the overhanging prosciutto to enclose the mixture and then cover the tin tightly with aluminium foil.
Place the tin in a large, deep baking dish and fill dish with enough hot water to come halfway up the sides of the tin. Carefully transfer to the oven and bake for 1 hour 30 minutes, or until the terrine feels firm to the touch. Remove tin from the water bath and allow to cool slightly. Cut a piece of cardboard to size to cover the top of the terrine and weigh it down with tinned vegetables (or, use the weight provided if you are using a terrine tin). Refrigerate the terrine overnight.
The next day, when ready to serve, remove the weight from the terrine, invert onto a serving platter and slice to serve. Serve with cornichons and chutney or mustard, according to your tastes, with crusty bread. (Serves 10 as a starter, or a crowd as an inclusion on a charcuterie board. Leftovers will keep refrigerated for a few days, and are great for light lunches or sliced in sandwiches.)
Recipe adapted from Donna Hay magazine, Aug/Sept 2012.