Duck Breast with Beetroot and Raspberry Purée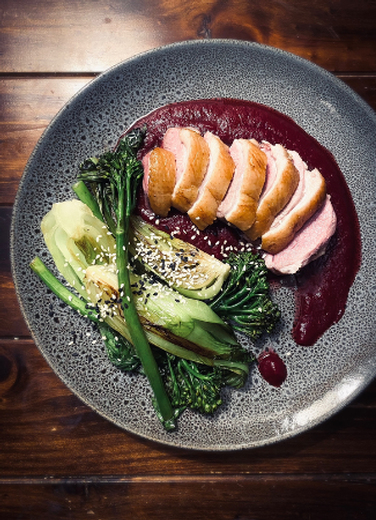 Recipe Date:
9 February 2021
Ingredients
4 duck breasts
500 g frozen raspberries, thawed
500 g whole beetroot
100 ml red wine vinegar (or to taste)
50 ml sesame oil
2 bunches broccolini, trimmed
1 bunch bok choy, halved or quartered if large
1 TBSP sesame seeds
Directions
1. Preheat oven to 200°C. Start by heavily salting the skin of the duck breasts. Leave for an hour at room temperature to draw out the moisture. Pat dry, then salt skin again. Meanwhile, place whole beetroot in the oven for 45 minutes. When cool enough to handle, peel the skin from the beetroot - it should fall off quite easily after roasting. Lower the oven temperature to 180°C.
2. For the sauce, blitz raspberries in a blender or food processor into a purée. Pour into a fine sieve and press through with a spoon to remove all seeds, leaving you with a smooth purée. Blitz peeled beetroot in the blender, adding red wine vinegar to taste. Add raspberry purée to beetroot in blender and blitz to combine. (The purée can be served hot or cold, warm through to serve if desired).
3. In a cold pan, on low heat, put the duck breasts skin side down and let them come up to temperature in the pan. Do not place duck in a hot pan – this will cause the breasts to tighten. Cook for 6 minutes skin side down, flip, and cook for 3 minutes more. Then place in a pan and cook in the oven for 8 minutes until medium rare (or until the internal temperature reaches 62°C). Rest for 8 minutes.
4. Meanwhile, heat sesame oil in a pan and fry broccolini and bok choy. Sprinkle over sesame seeds and cook until tender and bright green. Slice duck breasts on an angle, serve medium rare with sesame greens and beetroot and raspberry purée.
Thanks to Chef Alex Fleury from our Cellar Door team who shared his recipe with us!