Donna Hay's Fish & Fennel Pie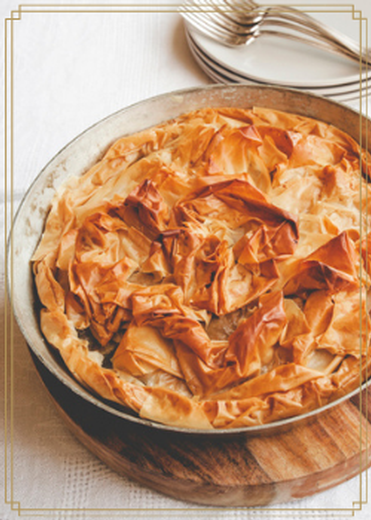 Recipe Date:
23 June 2022
Ingredients
60 ml (1/4 cup) extra virgin olive oil
1 brown onion, finely chopped
350 g fennel bulbs, thinly sliced
sea salt and cracked pepper, to taste
2 cloves garlic, crushed
500 ml (2 cups) pouring cream
2 tsp Dijon mustard
2 TBSP finely grated lemon rind
2 TBSP finely chopped tarragon
600 g skinless salmon fillets, cut into 3cm pieces
600 g skinless barramundi fillets, cut into 3cm pieces
50 g (1/3 cup) plain flour
10 sheets filo pastry
150 g unsalted butter, melted
Directions
Preheat oven to 180ºC. Heat the oil in a saucepan over medium heat. Add the onion, fennel, salt and pepper and cook, stirring regularly, for about 10 minutes or until beginning to brown. Add the garlic and cook for 1-2 minutes until fragrant. Stir in the cream, mustard and lemon rind and cook for 5 minutes until slightly thickened. Stir through the tarragon.
Meanwhile, dust the fish pieces in the flour and place into a 2L pie dish. Pour the hot fennel and cream mixture over the fish.
Brush a sheet of filo pastry with the melted butter and scrunch together roughly, placing on top of the pie. Repeat with remaining filo sheets and butter until the pie is covered with a textural, rough crust. Drizzle over any remaining butter. Bake for 30-35 minutes, until crust is a deep golden colour and the mixture is bubbling, and serve with lightly steamed greens. (Serves 4 - 6).
Recipe from Donna Hay Magazine.