Crumbed Lamb Cutlets with Smoky Eggplant Salad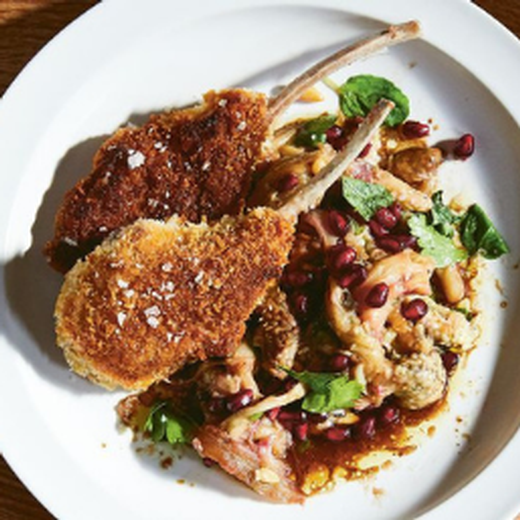 Recipe Date:
19 July 2021
Ingredients
8 lamb cutlets, Frenched
100 g (2/3 cup) plain flour
2 eggs, lightly beaten
125 g (2 1/2 cups) panko breadcrumbs
4 tbsp extra virgin olive oil
3 eggplants (about 1 kg total)
1 pomegranate
60 g pine nuts, toasted
1 large handful each of parsley and mint leaves
1 lemon, juiced
1 pinch sumac
1 tbsp pomegranate molasses
Directions
1. For the salad, place the eggplants directly over the gas flame of your stove or on a barbecue over coals, and cook for around 10 minutes, turning frequently, until the skin is charred and the flesh is soft and collapsed. Transfer to a dish and, when cool enough to handle, peel and discard skin. Transfer the flesh to a colander and allow to drain for 10 minutes. Transfer to a bowl and add pomegranate seeds, pine nuts, herbs, lemon juice, 3 tbsp of the olive oil, molasses and sumac. Mix together with a fork, gently pulling the eggplant apart as you mix.
2. Season the lamb with sea salt. Place the flour, egg and breadcrumbs in separate shallow bowls, ready for crumbing. First, lightly dust the cutlets in flour, then dip in the egg and finish with breadcrumbs, using your hands to gently press the crumbs onto the meat.
3. Heat remaining 1 tbsp olive oil in a large frypan over medium heat and pan fry the crumbed lamb cutlets for about 3 minutes on each side, until golden and just cooked through. Drain on paper towel, and serve with the eggplant salad.