Christmas Pickled Pork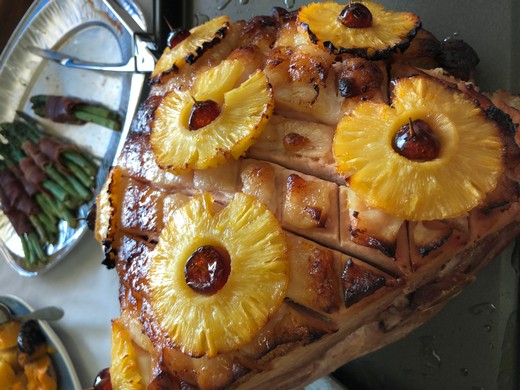 Recipe Date:
12 November 2017
Ingredients
1 Large pickled pork (5-7kg)
2 L Coca-Cola
0.57 L Water
1 Bay leaf
5 Cloves
2 Tbs vinegar
2 Tbs dark brown sugar
2 tsp mustard
100 g Glacé cherries
425 g Tinned sliced pineapple
Directions
Use a large pot (we use my mum's favourite pot, Gregory).
Simmer the pickled pork for 40 minutes per kg then allow it to cool.
Remove from the pot and peel off the skin. Score the fat with a knife. Decorate with cloves and cover well with a mixture of dark brown sugar, mustard powder and grated orange peel.
Place pineapple rings over the pork and fix on with toothpicks, putting a cherry in the middle of each ring.
Bake at 180*C until the glaze is glassy and the pineapples are slightly browned (about ¾ hr), basting occasionally with fresh orange juice.
Serve hot or cold with potato casserole, peas, carrots and courgettes or baked prosciutto wrapped asparagus spears. Use the juice in the pan as gravy.