Chorizo, Cumin and Tomato Rice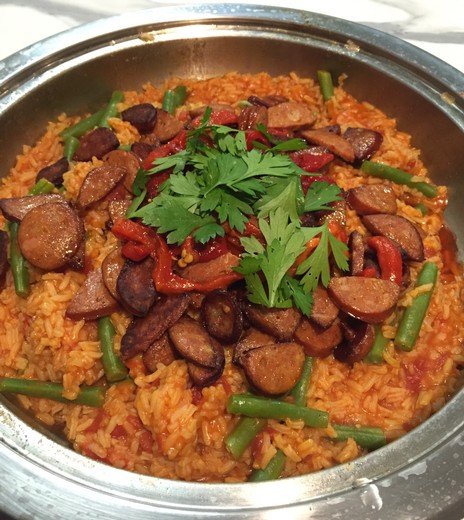 Recipe Date:
15 September 2015
Ingredients
2 Garlic cloves, crushed
1 Teaspoon ground cumin
1 Teaspoon paprika
1 Teaspoon ground coriander
1.5 Cups basmati rice
400 g Can of diced or crushed tomatoes
1 l Chicken stock
200 g Green beans, cut into 3-4 cm lengths
300 g Chorizo, sliced
200 g Marinated capsicum, drained and sliced
Fresh coriander leaves, to serve
Directions
Heat 1 tablespoon of olive oil in a deep frypan over medium-high heat. Add garlic and spices and cook for 1-2 minutes or until fragrant. Stir in rice and mix well, then pour in tomatoes and stock
Bring to the boil, cover pan and reduce heat to a simmer. Cook for about 30 minutes until all the stock has been absorbed and the rice is cooked and tender. Add beans in the last 5 minutes of cooking.
Heat a small frypan over medium-high heat and cook chorizo for 5 minutes or until golden brown
To serve, transfer the rice to a platter and top with the capsicum, cooked chorizo and coriander leaves.
Enjoy with a spicy, savoury, medium bodied red wine!