Chocolate Basil Whoopie Pies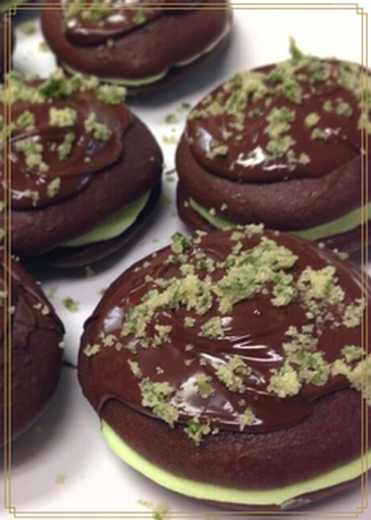 Recipe Date:
31 March 2022
Ingredients
160 g brown sugar
125 g butter, at room temperature
1 tsp vanilla extract
1 egg
50 g cocoa powder, sifted
1 tsp bicarbonate of soda
300 g plain flour
330 ml buttermilk
70 g caster sugar
6 large fresh basil leaves
150 g dark chocolate, melted
185 ml thickened cream
18 large fresh basil leaves
375 g mascarpone cheese
45 g pure icing sugar, sifted
3 drops green food colouring
Directions
Preheat oven to 190ºC/170ºC fan forced. Line two baking trays with baking paper.
Use electric beaters to beat brown sugar, butter and vanilla in a bowl until pale and creamy. Beat in the egg. Stir in the cocoa and bicarbonate of soda to combine. Fold in flour and buttermilk, in alternating batches, until just smooth (the mixture will be quite stiff).
Using a small icecream scoop or dessert spoon, scoop rounds of mixture onto prepared trays, leaving generous space for spreading. Smooth the edges. Bake for 10 minutes or until firm. Cool slightly on tray before transferring to a wire rack to cool completely. Repeat in batches with the remaining mixture.
Meanwhile, for the filling, heat the cream and 18 basil leaves in a saucepan over low heat until almost boiling. Set aside to cool completely. Strain the cream into a bowl discarding the basil, and add mascarpone, icing sugar and food colouring. Whisk until well combined and firm peaks form, but take care not to over-beat.
Place half the biscuits, base side up, on a clean surface. Spoon the filling into a piping bag with a 1cm nozzle and pipe the filling onto the biscuits. Alternatively, simply spread filling onto the biscuits with a knife or teaspoon. Place the remaining biscuits on top of the filling and gently press them to sandwich together.
Process caster sugar and 6 basil leaves in a small food processer to combine. Dip the top biscuit of the whoopie pie into melted chocolate, then sprinkle with basil sugar to decorate.
A favourite recipe from taste.com.au, made and enjoyed by Claire from Singlefile at many Easter gatherings!