Bolognese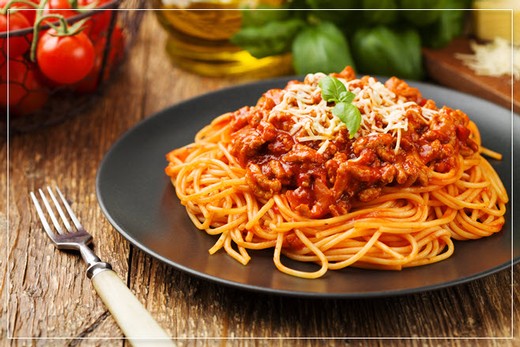 Recipe Date:
29 October 2020
With so much talk of Cabernet Merlot and its perfect match with Bolognese or ragu we share with you a family favourite – but this time from the husband of one of our team members. Aldo was bought up in an Italian household where his mother shared the family secrets for their traditional Bolognese, then after training as a chef, he evolved it further putting his own family stamp on it. Take your time with it and you will be lovingly rewarded.
Ingredients
2 medium onions, roughly diced
5 cloves of garlic, finely chopped
3 medium carrots, finely diced
3 sticks celery, finely diced
1 bunch basil, roughly chopped
1 bunch parsley
500 g pork mince
500 g veal mince
500 g chicken mince
3 kg tinned whole peeled tomatoes, or fresh tomatoes either put through a moulie or crushed- or ideally homemade or good quality shop bought Pasatta
500 g tomato paste
1 salt and pepper to taste
1 sugar to taste
500 ml Water to adjust the texture (500ml if required)
1 bottle of red wine
Directions
Heat the good 'guzuzle' of olive oil on medium/high heat. Fry the onions on medium/high until clear then add carrot and celery and cook for 2-3 minutess or until the celery is just cooked clear. Add garlic and cook until aromatic and the colour changes.
Turn up the heat to high and add mince – one type at a time and brown each meat breaking it up as it cooks. Don't stir it too much so that it fries and does not stew.
Once all the meats are added stir in the basil and parsley then add all the wine. Allow it to reduce until nearly all the liquid is gone. Stir in the tomato paste then add the tomatoes.
Bring this to the boil and immediately turn down to a slow simmer. Cook for 3 – 4 hours covered, with the lid left ajar. Stir every 15 – 20 minutes to make sure it does not stick to the bottom of the pan.
Final critical stage – adjusting consistency and seasoning. Add enough water needed to make a consistency where you are just able to pour from a spoon. Not too watery and not too gluggy.
Taste for acidity and dependent upon tomatoes used add one teaspoon of sugar at a time, stirring and tasting in-between until the acidity dissipates.
Start with 1 tablespoon of salt and enough freshly ground pepper to your taste. Stir thoroughly and season with more salt and pepper if required.
We make this large batch and then break it down into serves and freeze for future use.