Adam Liaw's Teriyaki Salmon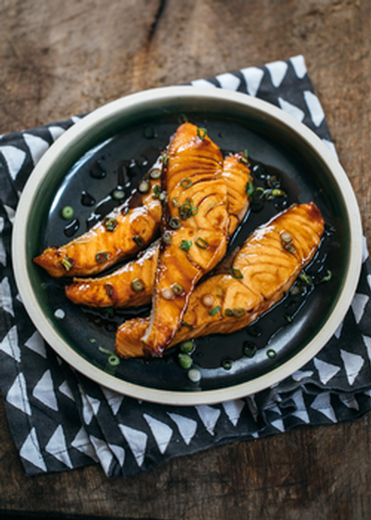 Recipe Date:
8 April 2022
Ingredients
600 g salmon fillets, skin off
1 TBSP cornflour or potato starch
2 tsp vegetable oil
1/2 - 3/4 cup Homemade Teriyaki Sauce (recipe below)
2 tsp grated ginger
1 spring onion, finely sliced (to garnish)
Directions
Cut the salmon fillets lengthways into narrow 2cm wide fillets. With a pastry brush, dust the salmon on all sides with the cornflour.
Heat a frying pan over high heat until very hot. Add the oil and reduce heat to medium, then add the salmon fillets (in batches if pan is crowded) and fry for 2-3 minutes per side until the salmon is just barely cooked through. Remove salmon from the pan.
Wipe most of the oil from the pan with paper towel, then add the teriyaki sauce to the pan and squeeze in the juice from the grated ginger. Bring to a simmer for about 2 minutes, until the sauce thickens slightly and becomes glossy. Add the salmon back into the pan, turn it once, and spoon the teriyaki sauce over the fillets for just a minute. Remove to a serving plate and scatter with spring onion. This is lovely served with rice and crispy Asian greens.
HOMEMADE TERIYAKI SAUCE
250mL soy sauce
200mL mirin
200mL sake
60-90g (to taste) white sugar
Combine the ingredients in a small saucepan and place over medium heat. Stir for a few minutes until the sugar just dissolves. Do not boil the mixture. Cool, and transfer to a jar or bottle and store in the pantry - it will keep for years!