A Really Special Mushroom Risotto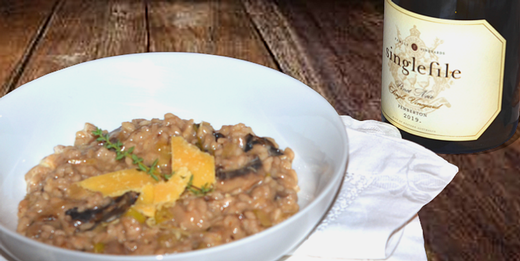 Recipe Date:
14 April 2020
Ingredients
200 g unpeeled field mushrooms (pale flesh undersides) sliced into 4cm batons
15 ml medium bodied Extra Virgin Olive Oil
5 fronds of fresh thyme
3 garlic cloves, unpeeled but lightly crushed
20 g unsalted butter
20 ml vegetable oil
1 leek, medium sized, white section finely sliced
20 g dried porchini mushrooms, soaked in one cup of hot water (reserve the water)
150 g white capped mushrooms, sliced finely
3 garlic cloves, peeled and left whole
400 g Nano or Carnaroli rice (higher starch content than Arborio rice)
250 ml chicken or vegetable stock, or water, kept at a rolling boil
100 g unsalted butter for Mantecatura (see directions)
50 ml Pinot Noir (optional - this will add a darker colour to your Risotto)
200 g quality Parmesan cheese, half finely grated and half shaved
50 ml crème fraiche (optional)
Directions
"This recipe does have a few stages, each adding to the depth and intense umami hits, so hang in there! The dish is a great starter for more than four or as a main course accompanied with a simple soft leaf green salad. This recipe produces what is referred to as all'onda, a moister risotto, with a wave effect when plated", Lesley Wiles, 2020.
Mushroom finish
Pre-heat the oven to 170 fan forced/190 conventional.
Gently mix together the field mushrooms, salt and pepper, olive oil, thyme and 3 garlic cloves, then place on an oven tray lined with baking paper. Bake for 20 mins, gently tossing every 7 minutes. Remove and discard the thyme and garlic and put the mushrooms aside. The mushroom mix can be prepped 24 hours ahead and stored in the fridge.
Risotto
Equipment: flat bottomed pan about 28 cm diameter with a lid (or large plate to cover) and a silicone spatula or girariso*
Melt 20g butter and oil over medium/low heat then add the leek, garlic (peeled and whole) and thyme, stirring gently, and cook slowly for 10 minutes, without burning. Reserving the drained liquid, add the finely chopped and drained porcini and button mushrooms and cook for another 10 minutes.
Turning the heat up slightly, add the rice and stir gently to ensure all rice granules are coated and starting to crackle. Add a pinch of salt and pepper then turn the heat up some more and add the Pinot Noir, ensuring it boils to add flavour and burning off the alcohol.
Reduce heat to medium or medium/low and add a ladle of hot stock, nearly covering the rice, stir gently and canter the lid over half the pan. Add no more than 50 ml of the porcini soaking water (as it can be quite strong). Continue to add stock ladle by ladle, giving it a gentle stir. With about 100 ml of stock left, add some drifts of finely grated parmesan to the rice. Add the remainder of the stock or hold some back if you think it is wet enough. The cooking time for the rice should be somewhere between 17-22 minutes.
Mantecatura: Hold back 40 g of shaved parmesan to include at serving and now add the balance of the cheese and butter, stirring rapidly with your spatula to ensure all are well combined. This process shifts the risotto from a wet rice dish to something luxe and delicious.
Gently fold in the roasted mushrooms, then the spinach or peas. Lightly stir through the crème fraiche, then let it sit for 5 minutes over a very low heat. Remove the thyme stalks and whole garlic cloves. Check seasoning.
Gather your pinot-drinking guests, warmed plates and plate up. Decorate with shaved parmesan and some black pepper Add chives as a garnish. Bon appetite!
Notes:
* Girariso is a wooden spoon with a large hole in the centre allowing the risotto to pass below, through and over the spoon when stirring
Some extra notes:
Some people like to add all the stock at once then put it in the oven. I do this when using barley instead of rice.
Some people like to stir constantly while others stir less. It is a personal choice. I like the occasional stir with the canter levered lid retaining some of the moisture
I don't cook with black pepper, preferring white pepper as it is softer in this dish
I try to leave about 50 ml of stock to put in with any leftovers: it helps keep it moist when you reheat
Cooking ahead: you can make risotto up to adding your first two ladles of stock, then let it cool. Next day/s bring back to room temperature, reheat remaining stock, add to oven proof dish, cover and cook for 20 minutes.
Risotto for a large group: use multiple pans on a large cook top rather than larger pans.