2022 Singlefile 'The Pamela' Porongurup Riesling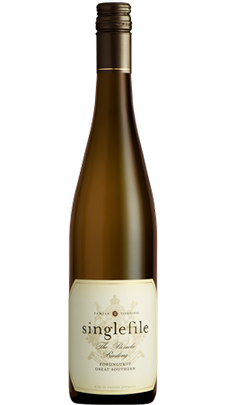 Limit of 6 bottles per customer
VINEYARD & WINEMAKING
The Porongurup sub-region of the Great Southern has developed a reputation for producing world class rieslings in recent years. Plantings of mature riesling vines are few and far between and we feel extremely fortunate to be working with the Misery Hill Vineyard which was established on the north east corner of the Porongurup range in 1996.
The 26-year-old vineyard is approximately 350m above sea level, is in a natural rain shadow (from the near-by Porongurup range) and has a northern aspect on lateritic soils. This cool site with minimal rainfall creates the pristine environment for mature riesling vines to thrive.
The 2022 growing season delivered ideal growing conditions – there was good rainfall over winter. Spring was reasonably dry and summer held slightly cooler temperatures which allowed for the ideal riesling flavours to develop while retaining that beautiful natural acidity.
This vintage's exceptional riesling has led us to introduce a new wine to our Limited Release Collection, 'The Pamela' Porongurup Riesling. Winemaking was focussed on preserving the delicate flavours and aromas and allowing the vineyards sense of place to shine through – only 2,827 bottles were produced.
THE WINE
Pale quartz in colour this wine shows beautiful lemon sherbet and lime zest aromatics with subtle hints of sea-salt and a talc, chalky minerality. The acidity is tight knit whereby the palate is characterised by the natural acidic drive, with citrus flavours flowing through the length of the palate. There is superb drive, length and balance to this wine. It will develop further over 20 years.
CRITIC REVIEWS OF NOTE
2022 Vintage
96 points, "Seamless", Barry Weinman, Fine Wine Club, Apr 2023
95 points, Ray Jordan, May 2023
"What riesling is all about", Dr Craig Drummond MW, Medical Forum Magazine, May 2023