2022 Singlefile Family Reserve Chardonnay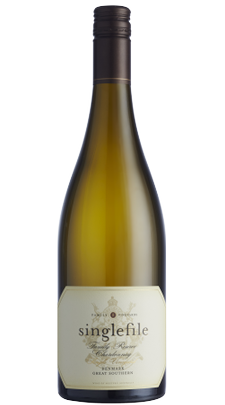 $54.00 as part of a straight or mixed case

VINEYARD & WINEMAKING
The Singlefile vineyard is in the Denmark sub-region of the Great Southern. We classify our chardonnay fruit to determine the ideal picking time to produce a cool-climate chardonnay with both power and finesse. Planted in 1989, the vineyard straddles the 35-degree latitude line and is 60 metres above sea level. The vineyard slopes north north-west in fertile well drained Karri loam soils with abundant micro fauna and flora. The vineyard is very slow ripening and tends to maintain its natural acidity while developing flavour ripeness.
The 2022 fruit, harvested by hand on 2nd April, was chilled overnight, then whole bunch pressed and fermented with a third of the juice going to new oak and the remainder going to one year old French oak barriques from the Marsannay, Quintessence and D&J cooperages. The wine spent nine months in oak with a partial malolactic fermentation to develop mouth feel and richness. Lees stirring (bâtonnage) occurred at weekly intervals during the first six months in barrel. The wine was then left to rest before preparation for bottling.
THE WINE
This wine has aromas of intense grapefruit and nectarines with hints of citrus blossom and subtle oak nuances. The palate displays a concentration of citrus and stone fruit with a touch of creaminess and nutty texture due to partial malolactic fermentation and bâtonnage. The wine is effortlessly mouth filling with a delicate balance of fruit and acidity and a long lingering finish, lasting well after drinking. A wine of both power and finesse, it is well suited to rich poultry or creamy shellfish dishes with sautéed vegetables. This wine will develop further complexity in bottle over the next five years.
CRITIC REVIEWS OF NOTE
2022 Vintage
96 points, James Halliday, The Weekend Australian, July 2023
96 points, Ray Jordan, WinePilot, May 2023
95 points, Barry Weinman, Fine Wine Club, Apr 2023
"A powerful chardonnay", Dr Craig Drummond MW, Medical Forum Magazine, May 2023
2021 Vintage
96 points, Wine Showcase Magazine, December 2021
94 points, Chardonnay Wine Awards, Winestate Magazine, April 2022
95+ points, Barry Weinman, finewineclub.com.au, March 2022
2020 Vintage
Gold, 95 points, Wine Showcase Magazine, March 2021
95 points, James Halliday, The Weekend Australian, November 2021
2019 Vintage
96 points, value rosette, James Halliday, 2022 Halliday Wine Companion, Aug 2021
5 stars, Best of the West, Winestate Magazine, May/June 2021
5 stars, Chardonnay Wine Show, Winestate Magazine, Mar/Apr 2021
4 stars, James Suckling, jamessuckling.com, Mar 2020
2018 Vintage
96 points, Ray Jordan, The West Australian 2020 Wine Guide, Nov 2019
95 points, Steven Creber, Australian Wine Companion, Aug 2019
93 points, James Suckling, jamessuckling.com, Jun 2019
94 points, Steve Leszczynski, QWine, Jun 2019
4.5 stars, Best of the West, Winestate Magazine, May 2019
18.6 points, Barry Weinman, Fine Wine Club, Feb 2019
2017 Vintage
16.5 points, Tamlyn Currin, JancisRobinson.com, Dec 2018
95 points, Ray Jordan, 2019 WA Wine Guide, Nov 2018
95 points, Ned Goodwin, Australian Wine Companion, Aug 2018
94 points, Steve Leszczynski, QWine, Jul-2018
2016 Vintage
18.75 points, Regan Drew, vinonotebook, Jun-2018
95 points, Top 100 New Releases, Gourmet Traveller Wine, Apr-2018
95 points, Jane Faulkner, Australian Wine Companion, Aug-2017
95 points, Huon Hooke, The Real Review, Jan-2018
94 points, QWine, Jan-2018
18.5 points, Barry Weinman, Fine Wine Club, Jan-2018
2015 Vintage
97 points, James Halliday, Australian Wine Companion, Aug 2016
Top Chardonnay, Mike Bennie, Gourmet Traveller Wine Magazine, May 2016
2014 Vintage
2016 Chardonnay of the Year, Winestate
97 points, James Halliday, Australian Wine Companion, Aug 2015
94 points, Huon Hooke, Jun 2015
18.6 points, John Jens, Western Suburbs Weekly, May 2015
9.5/10 points, Regan Drew, APN ARM, May 2015
18/18.5 points, Barry Weinman, Fine Wine Club
5 Stars, Lester Jesberg, Winewise Magazine
Product Reviews
Josie martin
(06/07/2019 at 6:26 PM)
This wine is a beautiful, fresh chardonnay that has the right amount of acidity and lovely finish in the mouth. Stunning colour too!
Nicole Payne
(08/12/2019 at 10:28 AM)
I literally drove to Denmark to get my hands on this beauty! I'm a huge fan of the big, bold, buttery Chardonnays and this one is probably the I've ever had! Beautiful oak leaves the most glorious taste in the mouth. Divine!!
Roger Schulz
(09/12/2019 at 9:59 PM)
This is a delicious Chardonnay. Not like any I have tried before. The first time I visited singlefile I wasn't keen on trying this but the cellar door lady insisted I did. Now it is one of my favourite wines.
Andrew Boyd
(24/01/2020 at 7:40 PM)
I am perhaps biassed in thinking that the thin modern style chardonnay fashion removes access to a wonderful full bodied style of white wine. This wine is a revelation, the old too much oak criticism is not applicable. This is a beautiful well balanced chardonnay that is truly excellent. More please!
Denni Clifton
(25/02/2020 at 5:16 PM)
This was an outstanding Chardonnay. Not normally a great fan of Chardonnays but this certainly changed my mind. It had body, and the balance of flavours on the tongue gives this a top rating! Excellent wine!
Peterthewineguy
(01/03/2020 at 5:36 PM)
Such a consistently delicious Chardonnay year after year. The 2018 is big and buttery with excellent acid structure. Super enjoyable now but time wouldn't be an enemy here. One of my favourite Australian chardonnays
Alice
(21/03/2020 at 1:11 PM)
If you fancy a refreshing white then this is a lovely choice. Easy to drink, but full of flavour. It was a real treat!
Peter
(28/03/2020 at 10:58 AM)
A beautifully balanced buttery and oaky chardonnay with exceptional structure and length. Straw coloured with lime on first taste giving way to lovely length with hints of mango. Will undoubtedly cellar well for at least 10-15 years. One of the finest examples of WA chardonnay and must be considered as one of Australia's best.
Chris
(29/03/2020 at 7:18 PM)
One of the finest examples of 2018 WA Chardonnay, this wine possesses exceptional balance and finesse. A fresh burst of lime and grapefruit on the palate melds with ripe white peaches. Vanillin oak is seamlessly integrated, while a creamy mouthfeel and buttery notes have been imparted through partial malolactic fermentation. Complex and undoubtedly satisfying, this wine provides as much as you can expect from a Chardonnay, with an exceptionally long finish that could easily tempt you in to another glass. The full package.
Nicole P
(01/04/2020 at 8:28 PM)
This golden goodness is my absolute FAVOURITE chardonnay! Buttery, oaky, amazingness. I wish I had the willpower to cellar it for a few years. Nectar of the Gods! YUM!!!!!
Pip
(01/04/2020 at 10:00 PM)
This delicious lightly golden Chardonnay is divine. With its blossom, creamy peach and honey taste and long finish. Would recommend you try, even if Chardonnay isn't typically your type. Pairs well with seafood.
Brooke
(03/04/2020 at 9:44 PM)
I'm not usually a big fan of Chardonnay but this wine definitely changed my mind. It was oaked without being too heavy. Crisp yet refreshing. Definitely worth a try if you don't usually like Chardonnay - I was pleasantly surprised and would recommend you give it a try!
peter missingham
(11/04/2020 at 3:30 PM)
Love at first sight! A nice light straw colour with what I call a ceramic "glint" in the glass - a hint of the finely honed flavors to follow. For me not so much stone fruit as a hint of gooseberry, although as the wine warmed a bit definitely more fruit. The middle palate lush and mouth filling (mlf working here?) with a tight lasting finish and lovely balanced acid. I detect a hint of nuttines but not too "buttery". I think a few more years in the bottle will see the oak and fruit better integrated...its a tight race at the moment. A great wine with plenty of promise although I doubt I'll be drinking it in 2015...too good now and i haven't got that many years left!
Rob B
(15/04/2020 at 4:33 PM)
This wine would deeply challenge the beliefs of even hardened ABC (Anything But Chardonnay) Club members. Partial MLF gives it a rich, buttery mouthfeel without sacrificing the counter-balancing acid liveliness. Intense fruit on the palate (as much citrus as stone fruit), and a long finish. It's an impeccable food wine; the match with our special Easter Isolation seafood dinner treat (crayfish / king prawns / oysters) was amazing. I'm sure it would cellar well, but why would you?
David Ward
(17/04/2020 at 7:05 PM)
Lime meringue pie meets bread and butter pudding. Bright decadent with a medium acid finish. Stacks up to white burgundy. Normally a red wine person it reminds of a trip to Beaune in 2017. Great work...I'm looking for some chardy from you guys.
Branden
(19/04/2020 at 3:32 PM)
From the packaging alone you know you're onto something special. A generous slug into the glass and the clear, medium, lemon (almost gold) wine with a medium+ aroma intensity will confirm your suspicions. On the nose, stone fruit (peach, nectarine), blossom, a touch of oak induced toast and a hint of marzipan - integrating and developing nicely. The palate continues the stone fruit theme, adds citrus and a restrained buttery mouthfeel provided by the partial malo. Medium+ acid, body and flavours - added to the high alcohol (14.1%) - ensures the wine has medium to long finish. A very good wine which is drinking well now but could be cellared for over decade. A restrained, balanced and almost Burgundian example of this varietal. 95 points. We served this with a seafood chowder - the acid balancing the fats and the mouthfeel complementing the dish's creaminess. The overall assessment - delicious! Take this wine out of the fridge 5-10 minutes before serving to really see it at it's best.
Michael
(20/04/2020 at 10:00 AM)
Really classy and enjoyable Chardonnay with all components in balance, a real treat for the senses...Drank it over two nights, first night with fancy old school creamy mustard pork and sage and second night with a couple of handfuls of cashew nuts, backed a winner both times.
Greg
(28/04/2020 at 11:33 AM)
A wonderful buttery WA Chardonnay that will not disappoint. This wine tantalises the palate with citrus and peach flavours that are perfectly blended and integrated with oak. It has the creamy buttery feel that is delicately balanced to provide depth of finish. It is still a young wine and should only improve with proper cellaring.
Isabel Ross-Adjie
(28/04/2020 at 7:19 PM)
I am not usually a big fan of chardonnays but when they are done right, they can be exceptional wines. This Chardonnay exceeded expectations. The light and refreshing flavours are complimented beautifully with its buttery undertones. It will age gracefully, but we'll be drinking ours now! Thank you Singlefile!
Anthony
(03/05/2020 at 7:08 PM)
To all the Chardonnay skeptics, myself included, please try, and love, this wine. We where unsure whether to cellar or not on arrival, so we ended up drinking then and there. And wow, never have we thoroughly enjoyed a Chardonnay until today. Citrus, grapefruit and stone fruits all present. Very smooth, with a long finish. Drank over three nights, great on night one, better again nights two and three. Excellent cellaring potential. Only downside is we drank our one and only bottle!
Ben
(04/05/2020 at 1:42 PM)
A lovely big Chardonnay with incredible colour. On the palate you get a gorgeous stone fruit taste before finishing with some light citrus creating a perfect balance. With a long finish that isn't overbearing, this matched perfectly with seafood and wanted me coming back for more. I am a lover of Chardonnay and this rates very highly on my list.
Russell Burder
(05/06/2020 at 9:56 PM)
Luscious full bodied Chardonnay that reflects the best Australia has to offer. Finely balanced marriage between buttery/vanilla lingering pallet and fresh citrus bursts that just makes you want to keep topping up your glass!
Stacey C
(23/06/2020 at 3:34 PM)
What a better way to celebrate International Chardonnay Day than with a bottle of the Family Reserve! Our first tasting of this buttery Chardonnay was at the cellar door last year where we were blown away by the flavours. We've had many big Chardonnays from South West WA and this is up there with the best of the best. Think of buttery stone fruit with vanilla and lots of oak.... absolutely divine with a cheese board or seafood. Just recieved our 8th bottle of this.. thank you Singlefile!
James Keneally
(17/10/2020 at 1:21 PM)
2018 Singlefile Family Reserve Chardonnay, Great Southern, Western Australia Zephyr is the name of one of the four humanoid characters of the Elementals as featured in the Marvel Comics. As the Mistress of the Winds, Zephyr had the power to control wind, sky and air to create havoc. It is a sad story of betrayal for Zephyr who was eventually defeated by Ms Marvel (aka Carol Danvers). A zephyr, of course, is also a soft gentle breeze that is in stark contrast to the hell-raising of its humanoid form. These gentle breezes are a key feature of the Denmark region in the Great Southern wine region of Western Australia. And it is this feature that provides a positive influence on Chardonnay from this region.
The 2018 Singlefile Family Reserve Chardonnay is from a single vineyard in the Denmark area of Great Southern in Western Australia. It is a light golden-coloured wine with a brightness that delights. The nose presents peaches, grapefruit, oatmeal and touches of cashews, lifting it up on a gentle breeze. On the palate this breeze becomes blustery in a good way, with gusts of grapefruit, waves of peaches and flashes of savoury nuttiness on the back palate. It is a taught and texturally layered palate with lees and nougat. Unlike the comics, the oak influences and crisp acidity finishes this off beautifully, knowing there is more in the bottle to relive the experience.
Norman O'Bryan
(01/03/2021 at 9:43 AM)
Justly considered a flagship wine of the Singlefile marque. Golden colour, a bouquet of stone fruit salad, with some pear and melon included. Complex on the palate but very smooth from beginning to end. Needs to be savoured carefully, not quaffed. Perfect with pate de fois or similar delicate pre-dinner foods which do not compete for flavour. Actually perfect as an entree by itself!
Luke Sweedman
(11/03/2021 at 4:17 PM)
Aztec honey gold colour leads into an earthy nose of stone fruit with length on the finish, nuanced almond and walnut characters merge with the oaks richness, this wine is imbued with a powerful intensity almost a mead sense in depth, difficult to cellar and perfect with lightly battered NW snapper now
James Keneally
(20/03/2021 at 9:57 AM)
The Zephyr of Great Southern has struck again. This Mistress of the Winds plays with the steep hills and valleys of the region and the Great Southern Ocean to deliver moisture laden breezes that cool the winters and warm the dry summers. The vines grown on gravelly sandy loams benefit greatly to produce deeply flavoured grapes with crisp acidity. Chardonnay is a highlight of this region.
The 2019 Singlefile Family Reserve Chardonnay from the Denmark area of Great Southern in Western Australia is a bright, lightly golden-coloured wine. The nose is gloriously complex with freshly sliced peaches sprinkled with grapefruit on a bed of oatmeal and oak spice. On the palate, the grapefruit pith balances out the white peach and ginger spice with hints of savoury nuttiness. The creamy lees texture and its crisp acidity brings out an elegant and intensely flavoured lingering finish that leaves you thanking Zephyr for her favours.
Wine Code Breaker 359 - unexpurgatedwinecode.com
Lisa Williams
(20/10/2023 at 9:06 PM)
There is no doubt this is a classic. Chardonnay lovers will be bowing down to the wine gods in praise of this one - I get it. I just don't love Chardonnay. It's a beautiful pale colour that contrasts with its heady taste and long lingering finish. You can taste the light oak and butter but there's a crispness with a hint of stone fruit and citrus. Definitely one to savour with dinner. And one for the Chardonnay cynics.
rob p
(29/11/2023 at 7:09 AM)
as good as i expected ..plenty now...plenty to develop