2023 Run Free by Singlefile Pinot Grigio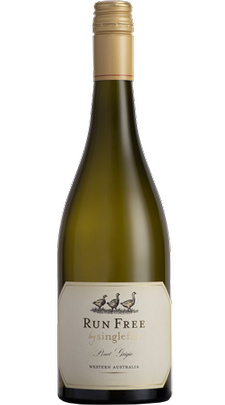 VINEYARD & WINEMAKING
The 2023 growing season in the Great Southern saw plenty of rainfall and mild weather which encouraged good ripening conditions for cool climate pinot grigio. Cooler growing conditions allowed for the strong varietal characteristics we come to expect of pinot grigio to shine through.
The fruit was picked just after dawn on the morning of 2nd March. The fruit was brought to the winery and gently destemmed and pressed, the juice transferred directly into stainless steel tanks and temperature controlled to ensure a slow fermentation process. After the fermentation the wine was racked off the fermentation lees and left to settle until late June. The wine was bottled early to retain its delicate aromatics.
THE WINE
There is a lovely delicacy to the aromatics in this pinot grigio, which displays a lifted bouquet of green nashi pear and citrus with an underlay of floral notes. The palate shows nashi pear and fresh green apple flavours. It has some subtle weight while still maintaining freshness due to its natural acidity. It is an easy drinking style with a clean and flavoursome finish. Enjoy as an aperitif or with a fresh garden salad.
PREVIOUS RELEASES
2022 Vintage
2021 Vintage
2020 Vintage
2019 Vintage
CRITICS REVIEWS OF NOTE
2023 Vintage
New Release
2022 Vintage
93 points, Winestate Magazine Pinot Gris/Grigio Tasting, Nov/Dec 2022
2021 Vintage
92 points, Wine Showcase Magazine, Dec 2021
2020 Vintage
4 stars, Winestate Magazine, Dec 2020
4 stars, Winestate Magazine, Aug 2020
2019 Vintage
4 stars, Best Wines of 2020, Winestate Magazine, Annual Edition 2021
4 stars, Equal Top in Category, Winestate Magazine, Sep/Oct 2019
Product Reviews
Sam
(18/04/2020 at 2:34 PM)
This wine is definitely a crowd pleaser. Light and fresh, this would be perfect for summer afternoons eating alfresco. Pale gold in colour Beautiful nose of red apples and melon backed up by a nutty almond note. Slight wet stone minerality gives some complexity. The fresh palate is light with those tree fruits to the front. Good amount of acidity but not overbearing. A very nice easy drinking wine. Matched with a nice piece of fish it would be amazing
Brooke
(19/04/2020 at 7:52 PM)
A nice fresh but a slight dryness to this delightful white. Pinot Gris is my favourite but this is a close second. We enjoyed it with a nibbles platter of cheese, onions, salami & olives. Would go nice with a dish of chicken or fish too. A real winner
Rod Easdown
(28/04/2020 at 2:02 PM)
They say addicts spend their lives trying to re-create that original hit that got them into all their trouble. For me it's pinot grigio. I had my first hit of it in Tasmania oh, long ago, and it was a real wow moment. Little bundles of flavour ricocheted around my mouth with energy that was way of kilter with Tasmania. I've been searching for that moment ever since and with the Run Free Pinot Grigio… wham, it's ba-ack. You're not so much hit by the fruit as by the whole damn orchard. It puts every taste bud you have into overdrive. And it doesn't let up. Even by, the end of the second glass, as you roll it around your mouth and open the back of your throat to spread those precious vapours up around your nose it's a big holy moly experience. This is not a wine for long lunches but if you can smell the sea, hear the waves and have a big feed of fish and chips in front of you this is as good as it gets.
Alice Fitzpatrick
(01/05/2020 at 6:17 PM)
What a lovely and refreshing wine! The wine was crisp and paired beautifully with some cheese and crackers! This wine would be lovely in summer shared with friends.
Denni
(04/05/2020 at 3:35 PM)
I thought this was surprisingly well balanced. Viscous and ripe it has a amazing presence of flavour, easily drinkable!
Andrew Boyd
(10/05/2020 at 3:16 PM)
My impression is perhaps coloured by drinking the outstanding family reserve chardonnay two days before. This said, this was a very good pairing with a seafood pasta lunch. The wine is straw coloured, has a fruity bouquet , giving way to a light, refreshing accompaniment to lunch.
B Barr
(28/06/2020 at 4:00 PM)
It's fresh, it's crisp. Apple but more peartastic for mine. First glass went down easy, second went down fast
Emily B
(19/01/2023 at 6:03 PM)
Normally a red wine drinker I was pleasantly surprised by this drop. Look, Light fresh and clean, Smell Fresh Citrus with a light herbaceous hint, slight cut grass. Very refreshing to drink, easy drinking Summer white. Enjoyed the paired play list as well. Great idea!
Jess C
(03/12/2023 at 8:26 PM)
This is the perfect summer wine, whether that's sipping it outside in the sunshine, or pairing it with bright summer salads and seafood. It's bright, light, clean, crisp and refreshing with light florals, Meyer lemon and crisp pear notes. I also loved the accompanying playlist - what a great idea!