2022 Singlefile Great Southern Tempranillo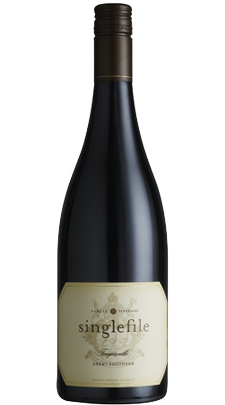 Limit of 2 bottles per customer

VINEYARD & WINEMAKING
The tempranillo varietal originates in Spain and is the dominant variety used in wines from the Rioja and Ribero del Duero regions. There are only very small plantings in the Great Southern.
This 2022 tempranillo was picked in pristine conditions in early April 2022. The grapes were cold soaked in small fermenters for two days before undergoing an extended and gentle maceration. Fifty percent of the wine was matured in single use Bordeaux oak barriques. The balance went to two-year old Bordeaux barriques for six months.
THE WINE
Deep crimson purple in colour, this medium bodied Great Southern tempranillo displays intense rich dark berries, earthy, spicy, forest floor notes, with hints of dark chocolate and gentle oak support. The wine is effortlessly mouth filling with a smooth savouriness balanced with acidity and complex tannins which create a chewy, dusty and lightly drying mouth feel. This is a great 'food wine' and will develop more complexity with further time in bottle.
CRITIC REVIEWS OF NOTE
2022 Vintage
93 points, Wine Showcase Magazine, July 2023
2021 Vintage
94 points, Gold, Wine Showcase Magazine New Releases Tasting, July 2022
2020 Vintage
4 Stars, New Releases, Winestate Magazine, May/June 2021
Gold, 93 points, Wine Showcase Magazine, Mar 2021
2019 Vintage
Gold, 93 points, Wine Showcase Magazine, Jul 2020
2018 Vintage
93 points, James Halliday, Australian Wine Companion, Aug 2020
91 points, Nick Butler, The Real Review, Aug 2019
92 points, Ray Jordan, Top 100 Reds, The West Australian, Jul 2019
91 points, James Suckling, jamessuckling.com, Jun 2019
92 points, Steve Leszczynski, QWine, Jun 2019
Product Reviews
Julie
(10/07/2019 at 10:39 AM)
I have never been much of a "red" drinker, but Singlefile is slowly changing this with their delectable collection of reds. I received a couple of bottles of the Tempranillo in my June wine order and I honesty wish I had ordered more. This Tempranillo is like a warm hug on a cold evening... its balanced and embracing, warm and inviting…. and will go well with anything! It is mild enough for those of us who are not into strong reds, but with a taste of red berries that makes you think of pairing it with a cherry ripe and a knitted throw on the couch. I really enjoyed this wine and will be ordering more to see out the winter.
Andrew Boyd
(07/10/2019 at 4:23 PM)
Having tasted many Spanish tempranillo I am not usually a fan of Australian Tempranillo but I was pleasantly surprised! The wine is medium bodied and has well balanced fruit and acidity with admirable length. It is ready to drink now and would pair well with any red meat dishes.
Tom
(23/10/2019 at 9:34 PM)
Really nice ruby colour with spicy and dark fruit aromas. Similar flavours come through on the palate making it a very inviting wine. I really like the nice oak flavours coming through at the end making this a very inviting wine to drink whilst it is fresh.
Brooke
(29/10/2019 at 12:26 AM)
Tempranillo is fastly becoming one of my favourite reds. I used to loved Shiraz or cab blends but lately have tried a few Spanish Tempranillo's - I have to say that this Singlefile Tempranillo holds up well against the Spaniards - a light oakiness & fruity flavours gives this bottle fabulous flavours & would have to be one if my new favourites. Will be adding a few bottles to my next order for sure. Loved it 👍
Amy
(16/11/2019 at 6:43 PM)
I hadn't had a Great Southern Tempranillo, but after trying one I promptly ordered more! This is a lovely medium bodied wine with a beautiful oak taste. It was perfect with homemade pizza but it would be light enough to have with nibbles or a lighter meal. Would recommend
Alice
(24/11/2019 at 7:35 PM)
I'm a huge fan of Tempranillo and this is one of the best I've had! I loved the dark red colour of this wine and it was warm with earthy undertones. Paired fabulously with red meat! Thanks Singlefile for another great wine.
Michael Gresham
(28/12/2019 at 10:54 AM)
Primarily dark fruits with hints of chocolate and spice. Great on the front palate and fills out the middle well, but drops off a bit at the end so be looking to drink in the next year or so. Pronounced and chalky tannins, so would be looking to pair this with a tomato based dish (pasta, pizza etc). Pretty good value at this price point.
Matt Allen
(16/01/2020 at 1:13 PM)
2018 being an excellent vintage for growing conditions in the south, the end product also reflects this. A great introductory red with nice smooth tannins which will easily win over the strict white wine drinkers. An ideal companion to have with slow cooked meats. Definitely a must get when the new vintage becomes available!
Aimee Lucas
(24/04/2020 at 4:59 PM)
I am not normally a Tempranillo drinker but thought I would try it out. I was not disappointed it provided a smooth finish which was enjoyable. If you are looking for an enjoyable light wine that is great with meat dishes look no further!
Ali Osborne
(10/07/2021 at 5:56 PM)
The Singlefile Tempranillo is a beautiful straight from the go. It's rich plum colour also made me think of the colour of Bravo apples. The Tempranillo has a rich earthy aroma. The wine is even and spicy . It is delicious by the glass, and would drink well with osso bucco.
Stacey Back
(26/07/2021 at 10:06 PM)
This well rounded, easy drinking red is the ideal way to warm up a cold winter's night. A balance of dark fruit flavours, earthy undertones and hints of spice, it lingers towards the end with a warm finish. It was the perfect medium bodied match for our lamb meal, with the spices well balanced and flavours not lost.
Kaya
(24/04/2022 at 10:13 PM)
My current easy drinking favourite that everyone enjoys. Depth and berry follow an upfront spice and creamy body. Not usually into Tempranillo's but this wine has completely changed my mind. Also this playlist is a killer!! One of my favs from this season, I love the vibes and how it compliments the wine so much! Thankyou Singlefile for the added bonus of these.
Carly
(08/10/2023 at 11:10 PM)
Wowsers. Tempranillo from Australia that is actually incredible! I was actually sad that I didn't cellar this and try it in a few years time as it tasted incredible so made me think about how it would be in a few years time. I just loved this wine - not too heavy but plenty of body with some incredible earthy under tones. It wasn't too light either like many tempranillos are with some good dark fruits and a slight oakiness on the taste buds - I enjoyed this over a few nights and really looked forward to having a glass at the end of the day. I didn't want to share this wine with anyone - it was too good!
Very drinkable now. Highly recommend this wine and would purchase again.