2023 Singlefile Great Southern Semillon Sauvignon Blanc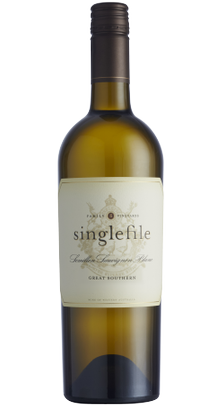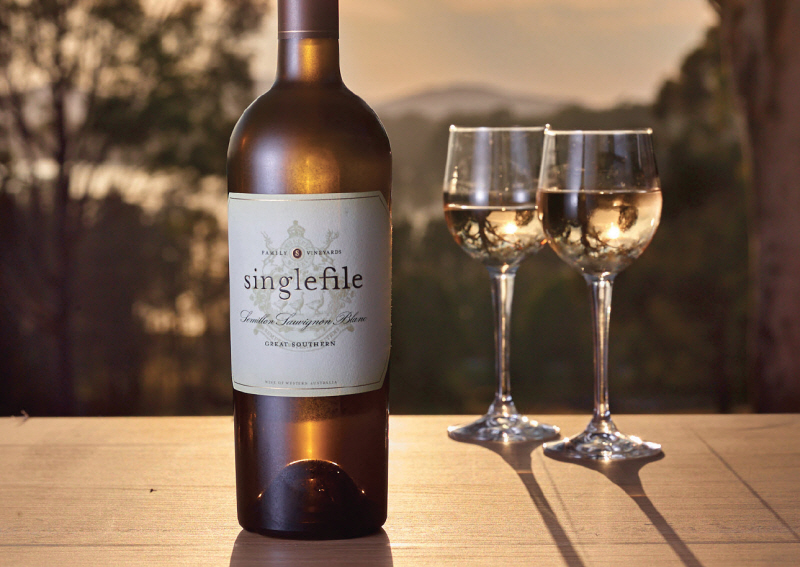 THE WINE
The colour is light and glistening. The wine displays powerful herbaceous aromatics with gooseberry and asparagus, and secondary floral and passionfruit aromas. The palate shows a textural, approachable mouth feel with primary flavours of citrus and tart gooseberry with tropical fruit and subtle minerality. Fruit flavours linger on the palate and the wine has a refreshing, clean finish.
VINEYARD & WINEMAKING
The 2023 growing season in the Great Southern delivered ideal conditions for cool climate semillon and sauvignon blanc. There was good rainfall over winter while spring was reasonably dry and summer held slightly cooler temperatures, allowing for flavours to develop while retaining natural acidity. The fruit, from selected semillon and sauvignon blanc vineyards in the region, was picked to produce a fresh and aromatic blend that showcases the best varietal characteristics of this classic Western Australian blend.
The semillon was picked before dawn on 28 March 2023 and the sauvignon blanc was picked on 22 March 2023. Both varieties were gently de-stemmed and crushed. A light pressing followed, with the free run juice separated and fermented in stainless steel tanks. The parcels of semillon and sauvignon blanc were kept separate throughout. The fermentation was carried out at 15°C for 15 days. On 18 April 2023 the wines were racked off their lees and blending trials were carried out to produce what we considered to be the best possible semillon and sauvignon blanc blend. With the goal of producing a dry, fresh styled wine with good structure and a nice length of flavour, the final blend was 62% semillon and 38% sauvignon blanc.
PREVIOUS RELEASES
2022 Vintage
2021 Vintage
2020 Vintage
2019 Vintage
2018 Vintage
CRITIC REVIEWS OF NOTE
2022 Vintage
97 points, Winestate Magazine, Semillon & Blends Tasting, Nov/Dec 2022
2021 Vintage
96 points, Winestate Magazine, New Release Wine Awards, Sept/Oct 2021
2020 Vintage
4 Stars, Huon Hooke, The Real Review, Apr 2021
2019 Vintage
91 points, James Halliday, Australian Wine Companion, Aug 2020
90 points, Steve Lesczcynski, QWine, Sep 2019
2018 Vintage
91 points, James Halliday, Australian Wine Companion, Aug 2019
91 points, James Suckling, jamessuckling.com, Jun 2019
90 points, Campbell Mattinson, The Real Review, May 2019
91 points, Jeremy Oliver, Mar 2019
17.25 points, Regan Drew, Vinonotebook, Jan 2019
91 points, Steve Leszczynski, Qwine, Sep 2018
2017 Vintage
92 points, Ned Goodwin, Australian Wine Companion, Aug 2018
'Awesomely Refreshing', John Fordham, The Sunday Telegraph, Jun 18
91 points, Steve Leszczynski, QWine, Mar 2018
90 points, Campbell Mattinson, The Wine Front, May 2018
2016 Vintage
Top 100 Wines of 2018, Rob Geddes, 2018
92 points, Jane Faulkner, Australian Wine Companion, Feb 2017
92 points, Ray Jordan, The West Australian, Nov 2016
18.2 points, John Jens, Western Suburbs Weekly, Sep 2016
Very Good, Regan Drew, Vinonotebook, Dec 2016
Wine Specs
Varietal
Semillon Sauvignon Blanc
Product Reviews
Brooke
(11/04/2019 at 8:10 PM)
One of the best SSB's I've EVER had. Can't get enough of it. It's dry and fresh but not too dry :) Simply a delight to drink with a nice cheese platter which is what I plan on doing with it this weekend. Thanks again Singlefile for a great SSB and the reason I stay in the wine club
Brooke
(21/09/2019 at 11:43 PM)
Still my favourite ever. One of the reasons we joined Singlefiles wine club. This SSB we've had with varying foods or on its own. Tonight we had it with pasta and garlic bread - yummo!!! Winner 🌟
Denni
(26/09/2019 at 3:18 PM)
This Semillon Sauvignon Blanc is very young of course, crisp and light with intensity and a real depth of flavour. This wine is very drinkable now but I believe will be an outstanding wine within a year and will continue to evolve over several more years.
Andrew Boyd
(06/10/2019 at 1:58 PM)
A pale straw coloured wine with a fruity nose - kiwi-friuit, peaches? The palate is long and fruit driven but with a balancing acidity which makes it a great match with non-oily seafood. A very enjoyable, well balanced wine even in its early development.
Amy
(23/11/2019 at 12:46 PM)
A lovely pale lemon-yellow coloured drop. A very well balanced dry and light taste with wonderful fruity aromas. An all rounder that will appeal to most wine drinkers in my experience.
Alice
(24/11/2019 at 7:26 PM)
Pale in colour with aromas of cut grass. Sweetness at the front with a dry crisp finish. Enjoy by itself or with some fresh WA seafood! A fantastic wine!
Michael
(28/12/2019 at 10:45 AM)
Definitely Semillon dominant on the nose, with dried grass/hay characters and subtle fruit notes, sauvignon taking a backseat here. Very restrained fruit on the palate, with crisp acidity and a slight sprtiz. Give it a 3 to 5 years for the Semillon to add some texture and complexity, and this could be a winner. Great price point to start if you're wondering whether or not you might like to start cellaring wines.
Matt Allen
(16/01/2020 at 1:06 PM)
A textbook SSB blend from Singlefile delivering a fresh and well balanced wine. Hints of fresh fruit and grassy undertones make this ideal on a warm sunny day.
Henry Thompson
(03/09/2020 at 4:49 PM)
A real gem which I recently discovered. It's up there with Cloudy Bay and Shaw + Smith for me could not recommend it more highly.
Henry Thompson
(12/11/2020 at 7:01 PM)
This 2020 offering is every bit as good as the 2019 which I still rave about. Enjoyed this with California rolls, sushi and sushimi salmon and was in my humble view an excellent pairing.
David Rogers
(23/11/2020 at 3:25 PM)
A colour of morning sunlight, this SSB has a well balanced front palette, with Asian fruits complimenting the finish with a frizzle tang at the end. Great combination for this wine style.
Luke Sweedman
(21/12/2020 at 2:00 PM)
a flinty straw colour with an alluring tropical nose, zesty citrus lemon nuances with a delicious mouth filling long finish perfect with charred lamb cutlets and wilted rocket, a summer joy in the bottle
Tegan Ashton
(25/03/2023 at 10:34 PM)
Light bodied, stunning pale yellow colour, easy drinking, perfect for a summer or warn autumn night. Paired well with pan seared barramundi, beautifully bringing out out the most gorgeous tropical flavours: passion fruit, lemon, grapefruit. Not too sweet but also not too dry! Fresh and crisp to taste. Gorgeous slight mineral, long finish. So versatile, would also pair well with trout and crème fraise Blini's… Can't wait to try that pairing!
Jess C
(04/12/2023 at 8:46 PM)
What a fantastic SSB, and incredible value too! Light in body and easy drinking, this is a great sipper as well as a food wine. The acidity is refreshing, and while it's clean, pure and crisp, it has a delightful texture on the palate. Flavours include gooseberry, passonfruit, lemon juice, green apple and a gorgeous herbaceousness. I had it with pork, pak choi and hoisin sauce and it was glorious!