2021 Singlefile Great Southern Rosé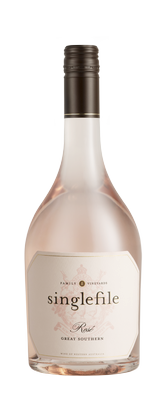 VINEYARD & WINEMAKING
This is a more serious, dry, Provence style rosé using the Italian varietal of Sangiovese. The grapes were picked on the 2nd April 2021. They were destemmed and crushed directly into the press with approximately two hours of skin contact occurring prior to a gentle pressing. The free run juice was handled oxidatively and remained on full solids for five days before rough racking and inoculation with a champagne yeast strain. Following a slow cool fermentation, the wine was rested on its lees in stainless steel tank for three months prior to preparation for bottling.
THE WINE
Pale salmon pink in colour, this is a contemporary Provence style of dry rosé; nuanced and delicate flavours of cranberry, orange skin and spices. It is long in flavour and mouthfeel with cherry, clove and burnt orange elements. It provides a persistent, textural and dry finish.
Join the waitlist for our 2022 Great Southern Rosé and be the first to know when it is released.
PREVIOUS RELEASES
CRITIC REVIEWS OF NOTE
2021 Vintage
92 points, Ray Jordan's Top 100 Whites, Sparklings & Rosés, The West Australian, Nov 2021
92 points, Barry Weinman, Fine Wine Club, Oct 2021
2020 Vintage
Silver medal, International Rosé Championships, May 2021
90 points, The Real Review, Dec 2020
2019 Vintage
93 points, Campbell Mattinson, Mar 2020
4 stars, James Suckling, Mar 2020
92 points, Huon Hooke, The Real Review, Dec 2019
93 points, Nick Butler, The Real Review, Nov 2019
93 points, Rod Properjohn, The Post, Jan 2020
Product Reviews
Paul Stevenson
(17/01/2020 at 10:48 PM)
This wine just looks delicious.... stunning packaging makes you want to open it immediately. The palest of pink in colour. Perfumed with strawberries before a delicate but long savoury finish. So moorish!!
Piers Truter
(26/10/2020 at 2:16 AM)
Pale pink in the glass. Strawberry with vegetal notes. Dry, mildly acid finish as a French Rosé. This wine is a savoury delight.
Very easy to drink on a warm Perth afternoon.
David Rogers
(23/11/2020 at 3:20 PM)
Straw/rose colour, opens with a nose of spring flowers and turkish delight then a well balanced mouth feel, completes with a distinct rose hip and apricot finish. Lovely style for an Aussie Rose.
Luke Sweedman
(24/11/2020 at 12:56 PM)
An attractive and compelling crisp rose petal salmon colour with a striking full flavour of Seville orange, hints of ripe tamarillo with a beguiling , lingering exotic allspice aftertaste. A remarkably luscious and modern style rose that utilises the best of the sangiovese style.
Pam Herron
(09/02/2022 at 2:22 PM)
Having spent time in Provence drinking rose I struggled to find anything produced in Australia that even came close and then this rose by singlefile. As good as anything I've had and having introduced it to all our friends I've knocked off the first dozen and devastated to see it's now sold out. Can't wait for the next brew to drop.