2022 Singlefile Great Southern Chardonnay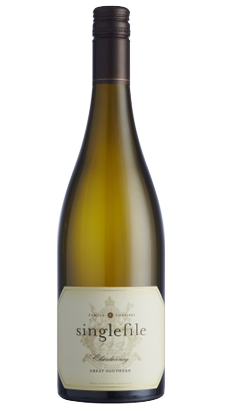 VINEYARD & WINEMAKING
Chardonnay is extremely well suited to the cool climate environment of the Great Southern wine region. Chardonnay from the vineyard sites in this part of Western Australia tend to ripen slowly, developing complex flavours while also retaining an elegant natural acidity which provides for a lovely balance between richness and vibrancy.
The 2022 season brought about a warm spring which resulted in a good start to the ripening season. Even temperature days and cool nights helped to retain the natural acidity in the fruit while full flavours developed.
The 2022 chardonnay fruit was harvested in three parcels on 12th, 23rd and 26th March 2022. In each instance the fruit was chilled overnight and then fermented in approximately 25% new and 75% one year old Burgundian oak barriques. The chardonnay barrels were lees stirred weekly for four months and then left to settle in barrel for a further four months before being prepared for bottling.

THE WINE
This wine has bright aromas of lemon curd and peach with a subtle mealy character. The palate displays a modern styled chardonnay of citrus zest and stone fruit with the use of new oak providing a subtle spice character. The wine is bright and mouth filling with a long lingering finish. The delicacy and acid profile of this year's chardonnay augur well for its cellaring potential.
CRITIC REVIEWS OF NOTE
2022 Vintage
95 points, Wine Showcase Magazine, July 2023
2021 Vintage
93 points, Wine Showcase Magazine, Dec 2021
2020 Vintage
Gold, 95 points, Wine Showcase Magazine, Mar 2021
2019 Vintage
96 points, value rosette, James Halliday, 2022 Halliday Wine Companion, Aug 2021
4 stars, Winestate Magazine, Mar/Apr 2021
4 stars, James Suckling, jamessuckling.com, Mar 2020
2018 Vintage
94 points, James Suckling, jamessuckling.com, Apr 2020
93 points, Steven Creber, Australian Wine Companion, Aug 2019
92 points, Campbell Mattinson, The Wine Front, Jun 2019
91 points, Steve Leszczynski, QWine, Feb 2019
2017 Vintage
91+ points, Campbell Mattinson, The Real Review, May 2019
96 points, James Halliday, Australian Wine Companion, Mar 2019
17.75 points, Regan Drew, Vinonotebook, Dec 2018
92 points, Huon Hooke, The Real Review, Oct 2018
90 points, Steve Leszczynski, QWine, Jul 2018
2016 Vintage
93 points, Jane Faulkner, Australian Wine Companion, Aug 2017
93 points, Ray Jordan, West Weekend Magazine, Jul 2017
'Delicious Drinking', Regan Drew, Vinonotebook, Aug 2017
2015 Vintage
94 points, James Halliday, Australian Wine Companion, Feb 2017
90+ points, Campbell Mattinson, The Wine Front, May 2016
2014 Vintage
95 points, James Halliday, Australian Wine Companion, Jul 2015
18 points, John Jens, Western Suburbs Weekly
2013 Vintage
96 points, James Halliday, Australian Wine Companion, Dec 2013
92 points, Huon Hooke, Jan 2014
2012 Vintage
94 points, James Halliday, Australian Wine Companion, Jul 2013
Product Reviews
Brooke
(16/07/2019 at 11:27 PM)
I'm not a "woody" Chardonnay fan so usually steer clear of them all together - however, I was pleasantly surprised. This Chardonnay isn't too woody/oaky and is dry but pleasant. I had it on a winters night snuggled by the fire with a nice mushroom risotto - a match made in winters heaven. This Chardonnay is still fruity but definitely one for those who like a quite dry white. Overall very pleasant
Alice Fitzpatrick
(28/07/2019 at 7:30 PM)
Crisp and light in flavour, citrus undertones. Really enjoyed drinking this wine and paired lovely with the fish we were eating.
D Clifton
(03/08/2019 at 4:25 PM)
A very lightly oaked Chardonnay that is crisp and dry with lots of flavours in the mix. A good accompaniment for white fish or chicken.
Michael Gresham
(11/08/2019 at 1:52 PM)
The nose and palate is consistent here; citrus notes reflect the balanced acidity, which brings good length on the finish. Oak influence is quite subtle but definitely there, and rounds out the mouthfeel just enough to prevent this from being too sharp. Overall a bright and cheerful wine, which should keep all but the most butter obsessed Chardonnay drinks happy, particularly at this price point.
Andrew Boyd
(11/08/2019 at 2:36 PM)
This was a truly satisfying wine, I have lamented the veer to light, astringent chardonnay making whilst not liking the very oaky, heavy style of the past. This wine beautifully treads the middle ground yielding a fruit-filled wine in which oak is submerged and resulting in a light style with a creamy mouth feel.
John Linton
(10/04/2020 at 10:21 AM)
This is a bloody good Chardonnay! I'd normally choose a GS Riesling... but I'm glad I gave this a go. Just the right amount of 'oakiness'.
Norm O'Bryan
(22/12/2020 at 5:57 PM)
My family and friends favourite Singlefile chardonnay. Reliable and very well priced year in, year out. The 2019 is a tad more astringent on the front palate (think apricot just before it's fully ripe) but it has a smooth and flavoursome finish, thanks to the generous time spent in high quality French oak. Highly recommended. Singlefile make several very fine Chardonnays but this one is without doubt the best value.
Aruni
(15/04/2021 at 9:43 AM)
The Chardonnay 2019 was divine with subtle Oak notes of vanilla and medium cream not overwhelming the fresh vibrant fruit underpinned by a great structure of Medium + Acidity, Medium Alcohol and Medium + flavour intensity . A perfect drop to drink now or keep for a few years . Wish I had bought another bottle .
Stacey Back
(31/10/2021 at 8:33 PM)
This high quality wine is an excellent example of the amazing Chardonnay's on offer from the Great Southern region — and one of my personal favourites. It's bright, zesty, with a lingering aroma of summer fruits. Flavours of citrus and nectarine feature, along with a subtle hint of oak.
This wine is always a hit, even with my friends who don't normally drink Chardonnay! It's well balanced — not overly dry or too oaky like some varieties. A beautiful drop, perfect on a balmy summer evening.
Jane
(18/10/2023 at 1:26 AM)
Aromas of peach, lemon zest, a touch of oak and a lingering finish. This beautiful, bright Chardonnay tastes like the start of summer to me!
Andrew
(01/12/2023 at 4:59 PM)
Tasted 1/12/23. Bright straw yellow colour. Aromas of peach and green apple. Full bodied with an intense, lingering finish. Well balanced oak and acidity with flavours of rockmelon and lemon. Would suit richer fish and poultry dishes. Better as it warms as the flavours pop out. Lacks the complexity of the Family Reserve Chardys hence the four star rating but still an excellent wine for the money.