2022 Singlefile Great Southern Cabernet Sauvignon Merlot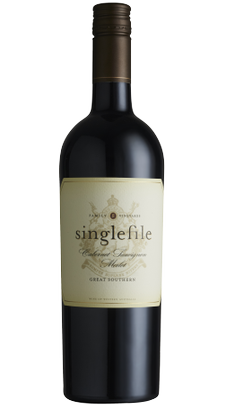 VINEYARD & WINEMAKING
This wine is a classic Bordeaux blend of cabernet sauvignon and merlot. The fruit was picked and hand-sorted in late April 2022. The two varietal parcels were cold soaked in small fermenters for three days before undergoing a gentle and extended maceration. This approach helped to soften the tannin profile. The wine was then matured in 225L Bordeaux oak barriques, 30% new, with the balance to aged Bordeaux barriques. The wine was matured in these barrels for fourteen months before being prepared for final blending and bottling.
THE WINE
This wine displays bright and lifted aromas of dark berry, cassis and earthiness with gentle oak support. The wine is alluring in its delicacy but also carries serious power. It is both effortlessly mouth filling with juicy red fruit flavours as well as being balanced with acidity and fine-grained tannins which leads to a long finish. The wine has good palate weight and is well suited to food such as red meat dishes or a roast leg of lamb with garlic and herbs. It will improve with further time in bottle.
CRITIC REVIEWS OF NOTE
2022 Vintage
New Release
2021 Vintage
94 points, Wine Showcase Magazine, July 2023
2020 Vintage
97 points, Winestate Magazine Cabernet & Bordeaux Challenge, July/Aug 2022
2019 Vintage
94 points, Peter Muscat, Wine Showcase Magazine, June 2021
93 points, Ray Jordan's Top 100 Reds, July 2021
2018 Vintage
5 stars, Best Wines of 2020, Western Australia, Winestate Magazine, Annual Edition 2021
4 stars, Best Wines of 2020, New Releases, Winestate Magazine, Annual Edition 2021
96 points, James Halliday, Australian Wine Companion, Aug 2020
5 stars, Equal Top in Category, Best of the West, Winestate Magazine, May 2020
4 stars, Winestate Magazine, Feb 2020
2017 Vintage
96 points, James Halliday, Australian Wine Companion, Aug 2019
92 points, James Suckling, jamessuckling.com, Jun 2019
92 points, Steve Leszczynski, QWine, Jun 2019
96 points, Top 40 Winter Reds, James Halliday, The Weekend Australian, May 2019
17.5 points, Barry Weinman, Fine Wine Club, May 2019
16.0 points, Tamlyn Currin, JancisRobinson.com, Dec 2018
96 points, James Halliday, Top 100, The Australian, Nov 2018
2016 Vintage
95 points, Ned Goodwin, Australian Wine Companion, Aug 2018
17.5 points, Regan Drew, Vinonotebook, Jun 2018
92 points, Steve Leszczynski, QWine, Apr 2018
17.8 points, Barry Weinman, Fine Wine Club, Apr 2018
92 points, Gary Walsh, The Wine Front, Mar 2018
2015 Vintage
95 points, Jane Faulkner, Australian Wine Companion, Aug 2017
92 points, Campbell Mattinson, The Wine Front, Apr 2017
92 points, QWine, Jun 2017
18.3 points, Barry Weinman, Fine Wine Club, Jul 2017
2014 Vintage
95 points, James Halliday, Australian Wine Companion, Oct 2016
93 points, Campbell Mattinson, The Wine Front, May 2016
18 points, Barry Wineman, Fine Wine Club, Aug 2016
Product Reviews
Andrew Boyd
(18/03/2019 at 11:45 AM)
This is a super, medium bodied wine, with great fruit and impressive length. Accompanying a filet steak was an excellent pairing for my taste.
Jamie Scoringe
(30/06/2019 at 12:33 PM)
chose to have this one as a fireside discussion piece... it delivers hands down on its own, superior depth of taste to defy its price point
Denni Clifton
(25/07/2019 at 6:57 PM)
We had this for a small celebration, it it was smooth after being opened for a few minutes with a bouquet somewhat of berries. Well balanced and full of flavour, this wine is best enjoyed with a meal.
Alice Fitzpatrick
(28/07/2019 at 11:34 PM)
This wine was full bodied in flavour, but smooth on the palate. If you're wanting an easy drinking wine, that has depth and personality yet isn't too overpowering this is a wine to try. Thoroughly enjoyed this bottle with friends!
Brooke Neal
(04/08/2019 at 8:04 PM)
We enjoyed this on the weekend by the fire with my folks. No food required this wine was smooth and easy to drink on its own. A great blend that was so easy to drink we were left wanting more. We've updated our club membership to include a few of these 👌
Andrew Boyd
(09/08/2019 at 7:50 PM)
The wine accompanied a pork filet which, despite hesitation that it may be too heavy, was not the case. Deep ruby and with an elegant nose the wine is medium bodied and fruit driven with little tannin or oak evident and shows very good length. For such a young wine it was surprisingly balanced and integrated. Perhaps not a match in the longer term to the previous vintage but still an excellent wine.
Michael Gresham
(11/08/2019 at 2:04 PM)
Hints of chocolate and spice but is primarily dark fruit driven, particularly on the front palate, but not in an overbearing or bold way. The merlot fills the middle ensuring a generous drink, but for me I found the length lacking and the tannins a little rough, the only things really stopping this from being a stand-out wine. Nonetheless, it represents great value and is one for drinking now or in a year or two.
Gai Day
(25/09/2019 at 6:28 PM)
Berry, with a soft tanin finish and a hint of pepper. Excellent even though not as big as the straight Cabernet Sauvignon but very rich. I would definitely order more and cellar.
Tricia Clark
(04/05/2020 at 2:21 PM)
Thoroughly enjoyed this wine yesterday over lunch. Dont know that much about wines, but it was delicious to drink. Will certainly be ordering more.
John McKenzie
(25/07/2020 at 10:45 AM)
WHAT A WINE !!! from the time it was opened the celebration began with the wine delivering on all fronts from palette to nose this was a great wine a nice smooth wine with a good body would recommend the anyone
Luke Sweedman
(16/09/2020 at 3:20 PM)
Soft nose and the colour is licorice with garnet cascading into a light filled glass with deep purple hues, full flavour on the palate driven by delicious berry and aniseed and a subtle dry and commanding finish, this wine is difficult to stop drinking, delicious
Piers Truter
(30/10/2020 at 11:53 PM)
Burgundy in the glass. This is a soft, smooth blend, with mild tannins and a rich berry palate. Mild toast flavours play second fiddle to blueberry, black currant and cherry.
This pairs beautifully with an Italian meal (we had pizza) and is a crowd pleaser. We served lightly chilled on a warm Perth evening.