2023 Run Free by Singlefile Pinot Noir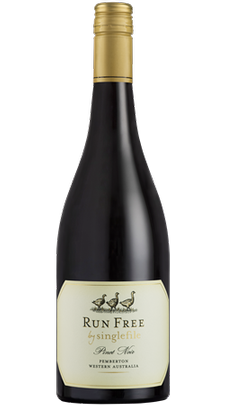 VINEYARD & WINEMAKING
The fruit for this Pinot Noir is from our two Great Southern pinot noir vineyards in the Mount Barker and Denmark sub-regions.
The fruit was picked, destemmed and cold soaked for two days in small open fermenters. A portion of the juice underwent a wild yeast fermentation, the remainder, after the introduction of an indigenous yeast strain. Once fermentation was underway the must was pumped over twice daily with small amounts of oxygen. The temperature was held at about 25°C, then allowed to warm up as the fermentation came to an end.
Upon completion of the primary fermentation the wine was then transferred to barrels for malolactic fermentation, allowing for the soft integration of the juice and oak.
The wine was bottled in November 2023.
THE WINE
The wine displays lifted aromas of sour cherries and spice with savoury notes. The palate is light with subtle texture and cherry flavours supported by well-integrated fine tannins leading to a long, elegant finish.
CRITIC REVIEWS OF NOTE
2023 Vintage
New Release
2021 Vintage
Top in Category, 93 points, New Release Wine Show, Winestate Magazine, Annual Edition Jan/Feb 2022
2020 Vintage
Equal Top in Category, New Release Wine Show, Winestate Magazine, May/June 2021
2019 Vintage
92 points, value rosette, Australian Wine Companion, Aug 2020
Gold, 93 points, Wine Showcase Magazine, Jul 2020
2018 Vintage
4.5 stars, Equal Top in Category, Best Wines of 2019, Winestate Magazine, Jan 2020
4.5 stars, Equal Top in Category, Annual Pinot Noir Show, Winestate Magazine, Sep/Oct 2019
2017 Vintage
17.8 points, Barry Weinman, Fine Wine Club, Jan 2019
16.0 points, Tamlyn Currin, JancisRobinson.com, Dec 2018
91 points, Ned Goodwin, Australian Wine Companion, Aug 2018
16.75 points, Regan Drew, Vinonotebook, Sep 2018
89 points, Steve Leszczynski, QWine, Jul 2018
2014 Vintage
92 points, Ray Jordan, The West Australian, Feb 2016
Regan Drew, Vinonotebook, Feb 2016
Product Reviews
Rod Easdown
(18/04/2020 at 6:57 PM)
My mate Ross is a New Zealander and thinks their pinot noirs are the best thing since screwcaps. I tell him they're prissy; I send him bold Australian pinot noirs to underline this. He says I'm an insensitive Australian boofhead, I figure he's played rugby a bit too often. This one we can agree on. It has subtlety without fragility, more body, less nuance, but with that lovely pinot smoothness. It's perfect with pasta but holds its own with a roast. Room temperature or slightly chilled it stays with you very pleasingly. Long lunches on the deck. Don't talk about rugby.
Brooke
(22/04/2020 at 11:47 PM)
This red is a delight. We enjoyed it on its own snuggles up on a chilly night on the couch. It is smooth yet not too heavy. Perfect at room temperature on its own but would equally sit well alongside a nice roast or beef dish. A true joy to drink this was a winner!
Alice Fitzpatrick
(01/05/2020 at 6:20 PM)
This wine is divine! Thoroughly enjoyed the subtle cherry undertone. Such a lovely, easy drinking wine!
Sam
(09/05/2020 at 4:54 PM)
Light and cheerful Pinot Noir from singlefile. Pale clean crimson in the glass. On the nose it has wild strawberries cranberry red cherries backed by some wet earth forest floor vanilla and dried herb aromas. There is also some whole bunch used in this wine which creates some complexity. Dry but elegant and light on the palate. Red fruit dried herbs and those whole bunches bringing some extra body and structure to this wine. Well balanced tannins with fresh acidity. Easy drinking yum 👍🍷
Andrea
(11/05/2020 at 6:53 PM)
Vibrant colour for pinot. Miniscus - very young. Nose - fruity, pleasant, smokey cherry with a little hint of terroir. Very balanced, nice fruit forward. Elegantly restrained, not delicate. A decent pinot, 17.25 pts.
B.Barr
(28/06/2020 at 4:04 PM)
I'd compare this to a good action film. Maybe not the most complex but hugely enjoyable. Plenty of cherry and very light. Great summer red for when the temp gets up. I'd drink slightly chilled - you could also chill the wine too.
Allan Jones
(20/08/2020 at 10:33 PM)
What a fantastic drink-anytime and versatile wine.
I have been an avid Pinot drinker for many years and through years of careful practice and research it has become my favourite variety, although I have kissed a few expensive frogs along the way. This wine is on the lighter side in terms of body, structure and alcohol content and beautifully balanced with soft rounded fruit, violets and a hint of smokiness. The best value for money Pinot I can remember.
Mark Mose
(07/08/2022 at 9:39 PM)
The wine displays fragrant aromas of early season cherries, matched with the softened colours of rosy cheeks, and the joy of happy smiles. Initial palate impressions are those of subtle aromas and lightly floral tones that evolve into fine tannins and a longish finish. This is an exquisite example of the ever evolving Pinot varietals from Pemberton, Western Australia. An easy drinking Pinot with intriguing and defining characteristics, and one that allows the full natural qualities of the fruit to display itself, by virtue of minimal intervention, and the use of organic natural wild yeast for part of the fermentation, enabling and highlighting the excellent integration of the juices with soft oak tannins. This is how all wines should be made.