2022 Run Free by Singlefile Chardonnay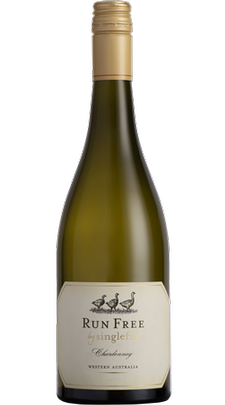 VINEYARD & WINEMAKING
The fruit was picked in pristine conditions early mornings in mid-March 2022. When the fruit arrived at the winery it was gently destemmed and pressed, the juice transferred directly into Burgundian 225l barriques and temperature controlled to ensure a slow fermentation process. Natural (wild) yeasts and cultured yeasts were used in different barrels, giving rise to the development of complex flavours and textural weight.
When the fermentation was complete the lees were stirred gently weekly until the desired balance between oak, lees complexity and fruit character was achieved. No malolactic fermentation was carried out with all the natural acidity preserved.
THE WINE
This 2022 chardonnay displays a bright, lifted bouquet of both lemon and stone fruits, such as peach. There is also an underlay of toasty spice derived from the oak. On the palate, the wine displays lively citrus flavours supported by funky barrel ferment characters which add complexity. There is a long flavoursome finish with a good balance of fruit, oak and natural acidity. This wine will develop further in bottle in the coming years.
CRITIC REVIEWS OF NOTE
2022 Vintage
93 points, National Liquor News Chardonnay Tasting, Mar 2023
93 points, Winestate Magazine Chardonnay Tasting, Mar/Apr 2023
2021 Vintage
94 points, Winestate Magazine Chardonnay Tasting, Mar/Apr 2022
94 points, Wine Showcase Magazine, December 2021
2020 Vintage
4 stars, Winestate Magazine, New Release Wine Awards, May/June 2021
2019 Vintage
5 stars, Best Wines of 2020, New Releases, Winestate Magazine, Annual Edition 2021
5 stars, Top in Category, Winestate Magazine, Nov 2020
2018 Vintage
91 points, James Suckling, jamessuckling.com, Jun 2019
2017 Vintage
17.9 points, Barry Weinman, Fine Wine Club, Mar 2019
17.5 points, Regan Drew, Vinonotebook, Dec 2018
91 points, Steve Leszczynski, QWine, Oct 2018
2016 Vintage
91 points, James Halliday, Australian Wine Companion, Jan 2017
2014 Vintage
95 points, James Halliday, Australian Wine Companion, Aug 2016
91 points, Ray Jordan, The West Australian, Feb 2016
'Top Value', Regan Drew, Vinonotebook, Feb 2016
4 Stars, Winewise Magazine, Nov 2015
Product Reviews
Danielle
(05/04/2020 at 6:29 PM)
Love a good Chardy and this one is full of peachy undertones, buttery with a hint of vanilla. We love it by the case!
Luke Sweedman
(05/11/2020 at 12:41 PM)
The wine exhibits a pale straw lemon colour with an attractive promise of citrus on the nose. It is an elegant and restrained wine with nuances of liqueur gooseberries and melon. Flinty and less buttery than some traditional Chardonnays but nonetheless, a voluptuous tasting weight to a full lingering finish , it adds great expression to oysters and fish.
James Keneally
(27/02/2021 at 4:45 PM)
2020 Run Free by Singlefile Chardonnay, Western Australia A delightful light golden coloured wine that opens up with a citrus spring of lemons, limes and grapefruit. There is a touch of honeydew melon and the spice of zest followed by floral aromas and crisp white peaches. The palate is a rounded out version of the nose where the slightly grippy tannins sit delicately on the knife edge like acidity that brings balance and persistence to this wine.
Wine supplied by Singlefile as guest panelist for their new release. It was delicious and is thus highlighted.
Norman O'Bryan
(01/03/2021 at 9:32 AM)
Run Free chardonnay is very good value at the entry level of a long list of excellent chardonnays produced by Singlefile. It is a very simple and direct style. Delicate bouquet with a hint of melon and tangerine. Slightly acidic on the front palate but gentle on the back and very quaffable. Perfect with white fish or hors-d'oeuvres pre-dinner. Also perfect as a starter for the weekend BBQ.
Ali Osborne
(10/07/2021 at 5:47 PM)
Delicious straw coloured Chardonnay. Generous white stone fruit nose with a flinty complexity. Clean and fresh. Smooth a a hint of buttery feel. This wine would be enjoyed perfectly with seared scallops.
Mary
(01/09/2022 at 12:35 PM)
Fermented in oak gives this unctuous, fresh Chardonnay lovely toast and marshmallow aromas. Singlefile winery is known for both value-oriented wines and premium offerings; Run Free Chardonnay sits between both styles. Apples and white peach, white flowers and hints of tropical fruit are framed with vibrant natural acidity. A long aftertaste makes this wine a perfect sipper that pairs well with poultry, seafood and salads.
SueLin
(26/09/2022 at 6:23 PM)
Punchy citrus gives way to a mild buttered popcorn taste. The lemon and stone fruit notes are divine, and I detect a little hint of lychee peeking through. This wine is exceptionally smooth for a young Chardy, and not so showy that it won't complement your everyday meals perfectly. A lightly creamy prawn pasta would be my go to, grilled Fremantle Octopus or poached scampi if you're feeling fancy. Having said that we enjoyed it with home made carbonara - perfection!