2020 Run Free by Singlefile Chardonnay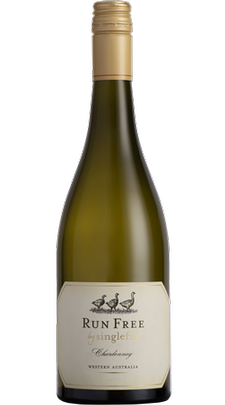 $22.50 as part of a straight or mixed case
VINEYARD & WINEMAKING
This Chardonnay was picked in pristine conditions in mid-February 2020. The fruit was destemmed and pressed, the juice transferred directly into French 225l barriques and temperature controlled to ensure a slow fermentation process with a mix of natural (wild) yeast and cultured yeasts which gave rise to the development of complex flavours and textural weight. Post-fermentation the lees were stirred gently weekly until the balance between oak, lees and fruit characters was achieved. No malo-lactic fermentation was carried out with all the natural acidity preserved. Bottled October 2020.
THE WINE
The wine shows a lifted bouquet of stonefruit and citrus with an underlay of toasty spice. The palate displays nice citrus flavours supported by barrel ferment characters which add complexity and add to the long flavoursome finish.
CRITIC REVIEWS OF NOTE
2020 Vintage
New release
2019 Vintage
5 stars, Top in Category, Winestate Magazine, Nov 2020
2018 Vintage
91 points, James Suckling, jamessuckling.com, Jun 2019
2017 Vintage
17.9 points, Barry Weinman, Fine Wine Club, Mar 2019
17.5 points, Regan Drew, Vinonotebook, Dec 2018
91 points, Steve Leszczynski, QWine, Oct 2018
2016 Vintage
91 points, James Halliday, Australian Wine Companion, Jan 2017
2014 Vintage
95 points, James Halliday, Australian Wine Companion, Aug 2016
91 points, Ray Jordan, The West Australian, Feb 2016
'Top Value', Regan Drew, Vinonotebook, Feb 2016
4 Stars, Winewise Magazine, Nov 2015
Product Reviews
Danielle
(05/04/2020 at 6:29 PM)
Love a good Chardy and this one is full of peachy undertones, buttery with a hint of vanilla. We love it by the case!
Luke Sweedman
(05/11/2020 at 12:41 PM)
The wine exhibits a pale straw lemon colour with an attractive promise of citrus on the nose. It is an elegant and restrained wine with nuances of liqueur gooseberries and melon. Flinty and less buttery than some traditional Chardonnays but nonetheless, a voluptuous tasting weight to a full lingering finish , it adds great expression to oysters and fish.