NV Singlefile 'The Great Southern' Sparkling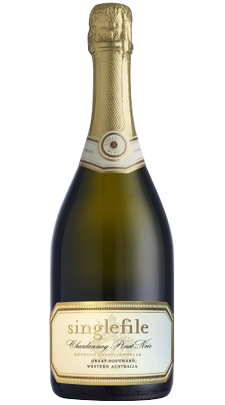 VINEYARD & WINEMAKING
As a recognised chardonnay and pinot noir producer, we take the opportunity to showcase our chardonnay and pinot noir in a premium sparkling style very seriously. The natural acidity and flavour profile of both chardonnay and pinot noir from the cooler vineyard sites in Western Australia are well suited to the production of premium sparkling wine.
Our sparkling wine is made in the Méthode Traditionnelle method where the secondary fermentation occurs in the bottle, making each bottle unique. This approach respects the same traditions of champagne production.
The Singlefile non-vintage (NV) sparkling is a blend of fruit from the Great Southern and Pemberton regions of Western Australia over seven vintages – 2015 to 2021. The final varietal composition is 84% chardonnay and 16% pinot noir. The wine rests on its lees for 18 months. We focus on crafting a Singlefile house style that is pristine and expressive, with subtle sophistication and complexity.
THE WINE
This sparkling wine has delicate aromas of flint, citrus, honey, and almond nougat, reflecting the time spent on lees. It has a soft mousse when poured into the glass. On the palate it has a fine bead and an elegance due to the natural acidity which presents as crisp freshness of Granny Smith apples and citrus zest. It also shows some subtle complexity. This wine is perfect with lemon drizzled oysters or scrambled eggs with crème fraîche and smoked salmon for a festive breakfast.
REVIEWS OF NOTE
Non-Vintage
95 points, Wine Showcase Magazine, June 2021
93 points, Ned Goodwin, Australian Wine Companion, Aug 2018
Wine Specs
Varietal
Chardonnay Pinot Noir
Wine Profile
Tasting Notes
84% Chardonnay, 16% Pinot Noir
Product Reviews
melanie butler
(14/02/2019 at 2:17 PM)
Yummm! Flavour and finesse in a bottle. This sparkling is great with seafood or on it's own
Natalie
(01/07/2019 at 7:31 PM)
Love these bubbles - one of my favourites! Great to have for a special occasion or just because it's Friday!
David
(04/12/2020 at 8:20 PM)
Best Australian bubbles i have ever had or fizz.
Hayley Ranger
(10/04/2021 at 12:20 AM)
This is literally a 'celebration in a bottle'. Suitable for any occasion, it opitimises the taste of the great southern through its relaxed but sophisticated style. I would recommend this to anyone!
Tom
(20/02/2023 at 8:49 PM)
This was a very exciting bubbles to find in my pack for the tasting panel. My wife and I always normally order at least one bottle of their Run Free Sparkling so this was a nice treat.
This wine was a very pure, crisp and fresh wine for being made in the traditional method of making Champagne. It had a beautiful fine mousse, notes of green apple and a decent amount of acidity that would allow this to be paired with a variety of food or occasions.
While enjoying this wine, you can tell the level of winemaking the Team at Singlefile put into this wine to create a sparkling that is this subtle, balanced and still with some concentrated backbone to it.
The fruit and acidity were not overwhelmed by the notes of brioche, and the slight nutty character from the time spent on lees. A great example of a well balanced, cooler climate method traditional sparkling.