NV Run Free by Singlefile Serendipity Cuvée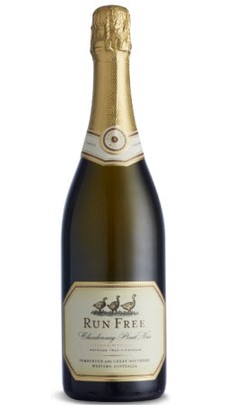 THE WINE
The fruit for this sparkling comprises of 60% chardonnay and 40% pinot noir. The blend is from the Pemberton and Great Southern wine regions of Western Australia.
The wine displays a full but luscious bead that fills the mouth. It is youthful but complex on the palate with texture, freshness and a long clean finish. Beautifully balanced citrus notes and yeast characters.
Wine Specs
Varietal
Chardonnay Pinot Noir
Product Reviews
Kaya
(24/04/2022 at 10:07 PM)
Crisp and clean with sweet little bubbles that kiss your lips, this is an excellent wine to celebrate life. Citrus crispness and lingering savoury finish. Another elegant drop of Singlefile!
Mary
(01/09/2022 at 1:47 PM)
A Chardonnay and Pinot Noir based sparkling wine made in the traditional method. The straw-coloured wine with copper hues is quite expressive. Berry aromas and apple scents slightly mixed with buttered toast notes come out of every tiny bubble. A palate cleanser, and appetite stimulant, this sparkling is excellent to start the evening and/or serve it with your favourite dish.
Pam Herron
(17/09/2022 at 9:52 PM)
A very drinkable, reasonably priced sparkling champagne style wine just out in time for the silly season. This bubbly is the perfect party starter and must always have a supply on hand.
Aliesha
(23/10/2022 at 11:12 PM)
I tried to wait for a special occasion to pop the cork on this one, but when none presented itself, I decided to enjoy it with my sister-in-law watching the kids play in the backyard. It's a very easy drink, refreshing, uplifting, and not too fizzy (No burps or nose tickles!). We both loved the taste and would pop another one without hesitation!