2022 Run Free by Singlefile Shiraz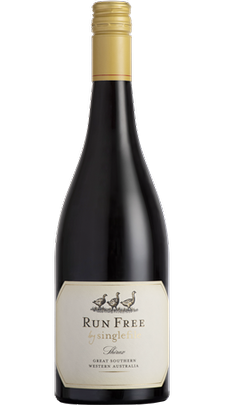 VINEYARD & WINEMAKING
Great Southern shiraz typically exhibits a compelling combination of spices, pepper, juicy red berries and plum flavours. It is typically a more elegant, 'food friendly' style when compared with the better-known shiraz styles of the Barossa and McLaren Vale regions of Australia.
This shiraz was picked and crushed to stainless steel tanks where it underwent a very gentle maceration over a two-week period. The must was then pressed and the wine was transferred to oak (a combination of new and second use French oak barriques) for eleven months before preparation for bottling.
THE WINE
The wine is a deep raspberry colour. The aromatics display notes of red berries, dark plum and charry oak characters with subtle cool climate spicy undertones and savoury notes. The palate is effortlessly smooth and displays juicy red and black berry fruit characters flowing through to a long, subtly spicy finish balanced by ripe soft tannins.
CRITIC REVIEWS OF NOTE
2022 Vintage
New Release
2021 Vintage
93 points, Top Value Status, The Real Review, Sept 2022
93 points, Syrah & Shiraz Challenge, Winestate Magazine, Sept/Oct 2022
2020 Vintage
95 points, Wine Showcase Magazine New Releases Tasting, July 2022
2019 Vintage
2017 Vintage
95 points, James Halliday, Australian Wine Companion, Aug 2019
91 points, Steve Leszczynski, Qwine, Jun 2019
2016 Vintage
16.75 points, Regan Drew, Vinonotebook, Mar 2019
91 points, Ned Goodwin, Australian Wine Companion, Aug 2018
91 points, Campbell Mattinson, The Real Review, Aug 2018
91 points, Ray Jordan, The West Australian, Jul 2018
90 points, Steve Leszczynski, QWine, Jul 2018
2015 Vintage
91 points, Ray Jordan, Top 100 Reds, Jul 2018
91 points, James Halliday, Australian Wine Companion, Jan 2017
2014 Vintage
94 points, James Halliday, Australian Wine Companion, Aug 2016
93 points, David Prestipino, WA Today, Jun 2016
Product Reviews
Ben Phillips
(13/04/2020 at 9:17 AM)
2017 Singlefile "Run Free" Shiraz (Great Southern)
The colour: Black & dark purple hues.
The nose offers deep, ripe aromas of plums, blackberries & black cherries, a big licorice kick, nutmeg, cinnamon & vanillin oak notes. Salty olives in the background too?
The palate delivers rich plummy notes balanced by vibrant blackberry acidity, with some surprising briny & olive tapenade feels, and Dutch licorice tang.
Complex if you're looking for it, ripe, tangy & satisfying if that's your jam.
Rod Easdown
(18/04/2020 at 7:02 PM)
It's an interesting thing about wine; the second glass often tastes better than the first. Why is this? Is it because the second glass has had more air? Is it because your palate knows what to expect? Both of these things? Whatever, it happens again here. Do this: If you are a person of immense self-discipline and control, a Virgo perhaps, uncap it at least an hour prior, better still decant. If you rush it that first glass will have a sharpish edge, wait for the second glass – deep, rich and full, wonderfully smooth. Your discerning friends will figure you've spent $40 rather than $25. Come to think of it, Virgos will probably wait eight or ten years before they uncap this one, when it will taste like $60. Virgos are damn clever.
Sam
(25/04/2020 at 4:44 PM)
For $25 this is extremely good value. This is a perfect expression of cool climate Shiraz from the Great Southern. Medium Intensity Ruby with blue reflections. Beautifully fragrant rustic nose. Blackberry with plum backed up by smoked meat violets and white pepper. A little clove from subtle oak but firmly in the background. Silky on the palate. Medium bodied and elegant. Dark fruits and spice through the mid palate showing some complexity. Balanced and well crafted. Pour me another glass! 🍷
Alice Fitzpatrick
(01/05/2020 at 6:22 PM)
Another lovely Singlefile wine! Paired perfectly with our pasta dish. Easy drinking, but deep in flavour and body. Thoroughly enjoyed!
Benn B
(06/05/2020 at 7:54 PM)
Smells like Hugh Grant's accent - plummy. Great fruit - all of the berries but keeps going to end with a savoury finish. It's got that cool climate thing going on but in a friendly and approachable way not a "I'm too cool for the BBQ way" Ridiculously good value. Ridiculous.
Andrew Boyd
(16/05/2020 at 1:53 PM)
A lovely, fruity medium bodied shiraz. It definitely opened up after decanting and being given an hour or so to breathe. This really brought out the fruit, an excellent food wine.
Patrick Kavanagh
(06/07/2021 at 6:24 PM)
This top value Shiraz from Singlefile really punches above it's weight. Medium violet in the glass it displays pronounced plum/red fruit, vanillin and cinnamon on the nose, enough to stop and think wowsers what have we got here? High acidity pushes about the lush fruit on the palate -blackberry and plums before the touch of white pepper and bay leaf make it all the more interesting. The slow maceration of the fruit really have this breathing down the neck of a Syrah style as the mellows tannins let it all melt away wonderfully. I pared with mushroom risotto and pork fennel sausage and it was bliss!!
Ali Osborne
(10/07/2021 at 6:05 PM)
I loved this wine from the 1st drop. The rich plum colour was a great start. Tha rich raspberry and plum jam aroma also made me think about stewed fresh plums. It had a long even palate with a touch of almond oil flavour. I would very happy drink this wine without food, but I think rare lamb loin would be perfect with it as well.
Aruni
(13/07/2021 at 1:22 PM)
The Run free Shiraz 2018 is a cool climate shiraz that opens with fruity aromas of plum and black fruit which then leads to floral notes of violets ,a mild cedary spiciness and herbaceousness. The palate is medium bodied with flavours of ripe plum, black berry weaved with white pepper and tomato leaf on the finish ably supported by high levels of acid and smooth tannins giving a beautiful balance to the wine. Amazing value at $25!
Stacey Back
(26/07/2021 at 10:00 PM)
This lighter style Shiraz is full of flavour and great value. It starts with earthy, dark fruit aromas and is dominated by flavours of blackberry and plumb. Hints of spice and a shorter, smooth finish round out this medium bodied drop.
Jane
(18/10/2023 at 1:43 AM)
I enjoyed this cool climate shiraz in the perfect location, by the fire under the stars. Juicy berry flavours are followed by a subtle spicy finish. Smooth, elegant and a new firm favourite.