2022 Singlefile Family Reserve Chardonnay Magnum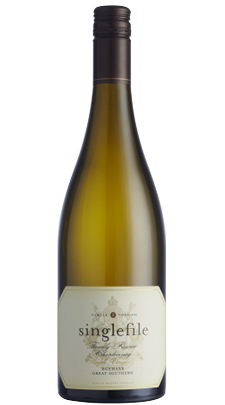 Join the waitlist to be the first notified if Family Reserve Chardonnay magnums become available.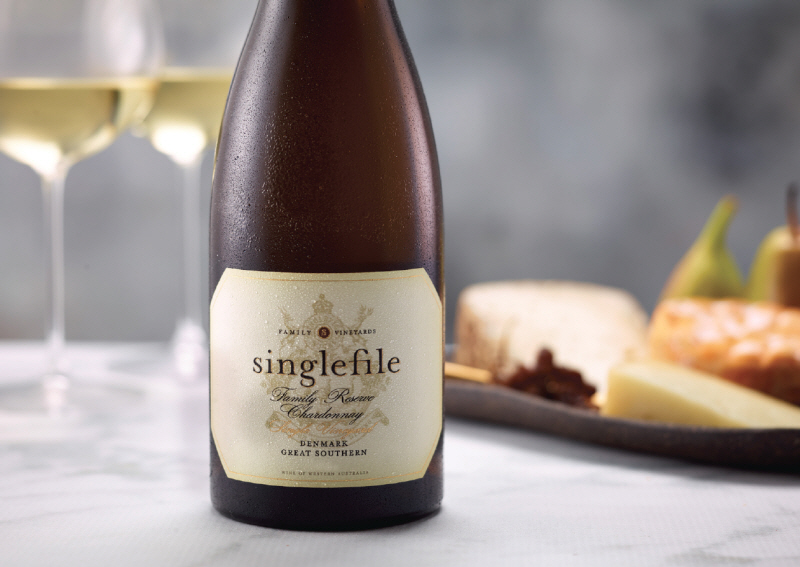 VINEYARD & WINEMAKING
The Singlefile vineyard is in the Denmark sub-region of the Great Southern. We classify our chardonnay fruit to determine the ideal picking time to produce a cool-climate chardonnay with both power and finesse. Planted in 1989, the vineyard straddles the 35-degree latitude line and is 60 metres above sea level. The vineyard slopes north north-west in fertile well drained Karri loam soils with abundant micro fauna and flora. The vineyard is very slow ripening and tends to maintain its natural acidity while developing flavour ripeness.
The 2022 fruit, harvested by hand on 2nd April, was chilled overnight, then whole bunch pressed and fermented with a third of the juice going to new oak and the remainder going to one year old French oak barriques from the Marsannay, Quintessence and D&J cooperages. The wine spent nine months in oak with a partial malolactic fermentation to develop mouth feel and richness. Lees stirring (bâtonnage) occurred at weekly intervals during the first six months in barrel. The wine was then left to rest before preparation for bottling.
THE WINE
This wine has aromas of intense grapefruit and nectarines with hints of citrus blossom and subtle oak nuances. The palate displays a concentration of citrus and stone fruit with a touch of creaminess and nutty texture due to partial malolactic fermentation and bâtonnage. The wine is effortlessly mouth filling with a delicate balance of fruit and acidity and a long lingering finish, lasting well after drinking. A wine of both power and finesse, it is well suited to rich poultry or creamy shellfish dishes with sautéed vegetables. This wine will develop further complexity in bottle over the next five years.
CRITIC REVIEWS OF NOTE
2022 Vintage
96 points, Ray Jordan, WinePilot, May 2023
95 points, Barry Weinman, Fine Wine Club, Apr 2023
"A powerful chardonnay", Dr Craig Drummond MW, Medical Forum Magazine, May 2023
2021 Vintage
96 points, Wine Showcase Magazine, December 2021
94 points, Chardonnay Wine Awards, Winestate Magazine, April 2022
95+ points, Barry Weinman, finewineclub.com.au, March 2022
2020 Vintage
Gold, 95 points, Wine Showcase Magazine, March 2021
95 points, James Halliday, The Weekend Australian, November 2021
2019 Vintage
96 points, value rosette, James Halliday, 2022 Halliday Wine Companion, Aug 2021
5 stars, Best of the West, Winestate Magazine, May/June 2021
5 stars, Chardonnay Wine Show, Winestate Magazine, Mar/Apr 2021
4 stars, James Suckling, jamessuckling.com, Mar 2020
2018 Vintage
96 points, Ray Jordan, The West Australian 2020 Wine Guide, Nov 2019
95 points, Steven Creber, Australian Wine Companion, Aug 2019
93 points, James Suckling, jamessuckling.com, Jun 2019
94 points, Steve Leszczynski, QWine, Jun 2019
4.5 stars, Best of the West, Winestate Magazine, May 2019
18.6 points, Barry Weinman, Fine Wine Club, Feb 2019
2017 Vintage
16.5 points, Tamlyn Currin, JancisRobinson.com, Dec 2018
95 points, Ray Jordan, 2019 WA Wine Guide, Nov 2018
95 points, Ned Goodwin, Australian Wine Companion, Aug 2018
94 points, Steve Leszczynski, QWine, Jul-2018
2016 Vintage
18.75 points, Regan Drew, vinonotebook, Jun-2018
95 points, Top 100 New Releases, Gourmet Traveller Wine, Apr-2018
95 points, Jane Faulkner, Australian Wine Companion, Aug-2017
95 points, Huon Hooke, The Real Review, Jan-2018
94 points, QWine, Jan-2018
18.5 points, Barry Weinman, Fine Wine Club, Jan-2018
2015 Vintage
97 points, James Halliday, Australian Wine Companion, Aug 2016
Top Chardonnay, Mike Bennie, Gourmet Traveller Wine Magazine, May 2016
2014 Vintage
2016 Chardonnay of the Year, Winestate
97 points, James Halliday, Australian Wine Companion, Aug 2015
94 points, Huon Hooke, Jun 2015
18.6 points, John Jens, Western Suburbs Weekly, May 2015
9.5/10 points, Regan Drew, APN ARM, May 2015
18/18.5 points, Barry Weinman, Fine Wine Club
5 Stars, Lester Jesberg, Winewise Magazine