Our Event Calendar
Get your calendar ready. All the Singlefile events are broadcast right here. Confirm your place at the table by clicking the Book Now button.
October 2019
A Sense of Place - Denmark Private Tastings
Tue, 01/10/2019 - Sat, 31/12/2022
Venue:
Singlefile Wines Cellar Door 90 Walter Road, Denmark
Contact:
Megan Belcher 1300 885 807,
theteam@singlefilewines.com

If you're looking for a wine tasting with a difference, book in for one of our exclusive 'A Sense of Place' tours. You'll be greeted warmly by your Singlefile host at our award-winning Cellar Door with a glass of sparkling then led on a tour of our grounds and estate vineyard. In our Private Tasting Room we'll take you through selected current vintage varietals and back vintages from our museum, as well as a special barrel tasting. A true behind-the-scenes insight into Singlefile's history, vineyard and people that showcases the best of the Great Southern wine region.
Private tastings typically run twice a day on Fridays, Saturdays and Sundays at 11am and 2pm. Click the book now button below to be redirected to our booking site for for available dates and times.
Cost Per Person
Regular ticket: $59.00
Discovery and Appreciator Club Members: $50.00
Collector Club Members: $47.00
Duration
Approximately 1 hour
Terms and Conditions
Tours must be booked 48 hours in advance. Minimum 2 people, suitable for groups up to 10 people.
View our cancellation policy here
April 2020
Singlefile Wines Coco d'Vino Masterclass
10:30 AM to 6:00 PM
Sun, 05/04/2020
Venue:
Singlefile Wines Cellar Door, 90 Walter Road, Denmark WA 6333
Contact:
Megan Belcher 1300 885 807,
megan@singlefilewines.com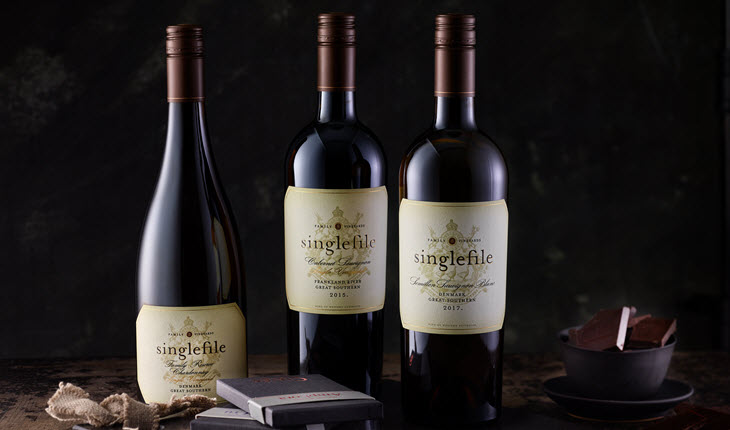 In 2019 Gourmet Traveller Wine Magazine's band of wine experts revealed their favourite regions, cellar doors, watering holes and the most rewarding vinous exploits the world has to offer. From tasting in the Napa, to visiting La Cité du Vin to exploring the Grampians by chopper, the list was enough to make any wine lover want to call a travel agent and start booking their next trip. We were absolutely delighted to see Singlefile's Coco d'Vino experience make the Top 50, one of only 12 wineries in the world mentioned!
Deniz Karaca is the brainchild behind the chocolates Singlefile serves at its cellar door. He blends high-quality cocoa beans sourced from select regions around the world according to their terrain, climate and altitude, including Java, Peru and Africa. Deniz's focus is to ensure his chocolates stand up to Australia's finest wines. And sceptics would be amazed at the remarkable taste sensations these marriages can create.
Singlefile Wines is thrilled to welcome Deniz and his wife Kylie from Cuvée Chocolate to their Cellar Door in Denmark for this years' 2020 Taste Great Southern for a masterclass version of their Coco d'Vino Wine and Chocolate Tasting Experience. There will be tasting, tempering and talking all things chocolate and wine. Dress to impress with your finest kitchen apron in tow with some prizes to be won!
Ticket includes 3 take home chocolate blocks, wine and tempering. Allow 3 hours.
Session 1: Sunday 5th April 2020, 10:30-1:30pm
Session 2: Sunday 5th April 2020, 3pm-6pm
For more event information, please contact Singlefile Wines on megan@singlefilewines.com or 08 9840 9749.
For more information on ticketing or Taste Great Southern, please contact CMS Events on events@wineandfood.com.au or 08 9201 9888.
November 2020
Singlefile's Spring Fling 2020
12:30 PM to 4:00 PM
Sun, 29/11/2020
Venue:
Singlefile Wines, 90 Walter Road, Denmark WA
Contact:
Megan Belcher 1300 885 807,
theteam@singlefilewines.com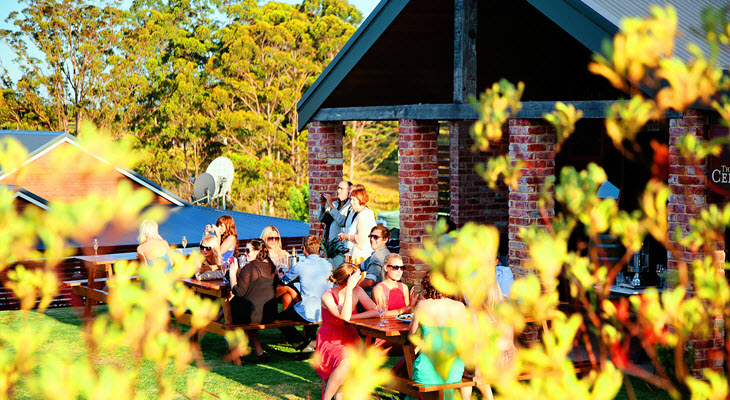 Mark November 29, 2020 in your diary for our annual Spring Fling event! More information coming mid-2020.