Step back in time – 1878 to be precise – to enjoy one of the 1200 bottles that grace the mahogany shelves of this stately joint. The date 1878 denotes the birth year of the intricate old apothecary cabinets that grace the front bar. The past is in the details. Thonet wooden chairs, marble floors and a dark red-walled interior add icing to the old-world cake in this restaurant/bar, serving European fare and a gracious amount of old-world class. Don't miss the Singlefile wines on the menu.
118 Hindley St, Adelaide
Web: www.theapothecary1878.com.au Instagram: @apothecary1878
Proof Laneway Rooms
As one of the early adopters of South Australia's small venue licence legislation, Proof has been chugging along nicely, serving "Cocktails, Fine Wines, Small Plates & Toasties" to the bar-hoppers who get a thrill out of its 1950s-style furniture, jazz tunes and intimate setting. Venture upstairs to discover a second space with a rooftop terrace. Brought to you by the crew behind Press Food & Wine, Proof is your solid Saturday night go-to, offering myriad styles of beverage accompanied by humble yet impressive toasties.
9a Anster St, Adelaide
Facebook: @proofADL
The Tasting Room
As an addendum to one of the city's best wine stores, East End Cellars, The Tasting Room has the country's, and the world's, finest wines on high rotation, although South Australian drops take the lead. Here's the drill: browse the collection in the wine store, get comfy in the tasting room and sample the wines that float your boat, team them with a ploughman's platter, then head back into the store and buy a take-home for later.
23 Vardon St, Adelaide
Web: www.eastendcellars.com.au/the-tasting-room
Maybe Mae
It's not a laneway city without a hidden gem, right? Maybe Mae is your pick of the inconspicuous bars – no sign, no door handle. Go on a bar hunt for this Art Deco lounge by heading to the tunnel between Leigh and Peel Streets, then venture down the stairs next to Bread & Bone and there hides the concealed entrance to Maybe Mae. This busy subterranean bar was inspired by the inimitable Mae West, with its 1950s glamour expressed in green leather booths, brass embellishments and flattering low-level lighting. At the bar, enjoy smooth cocktails, crafted by smooth bartenders, alongside sophisticated wine and beer options.
15 Peel St, Adelaide
Honourable Mentions
Just because it would be wrong not to include these other fab hot spots.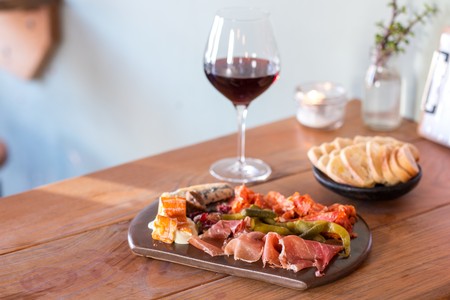 Cantina Sociale
In the CBD's south-west quarter is this popular social spot for lovers of wines less travelled. The wine list is populated by drops unavailable anywhere else. Anywhere. They're taken directly from South Australian cellars and poured here, in this bar. Experiments, unusual varieties, happy accidents – they all make for fascinating drinking.
108 Sturt, St Adelaide
Web: www.cantinasociale.com.au Facebook: @CantinaSocialeSA
Brklyn
Can't make it to Williamsburg? No sweat. Pop into this Brooklyn-themed bar where the Reuben Sandwich sits smugly next to the New York Hot Dog. The wines are a little more Australian in flavour, but the cocktails scream NYC. Oh, and would you say there's a barbershop, a deli and a live music broadcast studio on site. Indeed.
260a Rundle St, Adelaide
Web: www.brklyn-adl.com Instagram: @brklyn_adl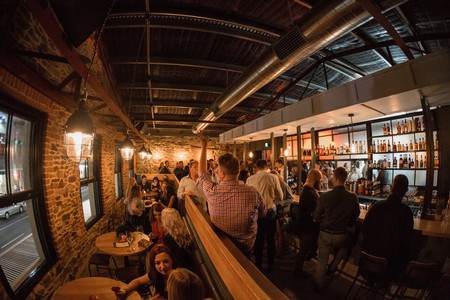 Mr Goodbar
The best things don't always come in small packages, especially when your task is to honour Saint Amand, the patron saint of bartending. Three levels dedicated to the pursuit of imbibing and dining in the heritage-listed East End Produce Market overlooking Ebenezer Place go a fair way to paying respect. Neon lights and jazz light up the experience.
12 Union St, Adelaide
Web: mrgoodbar.com.au Instagram: @mrgoodbaradl