18 October 2017 | Patrick Corbett
Let's talk about Riesling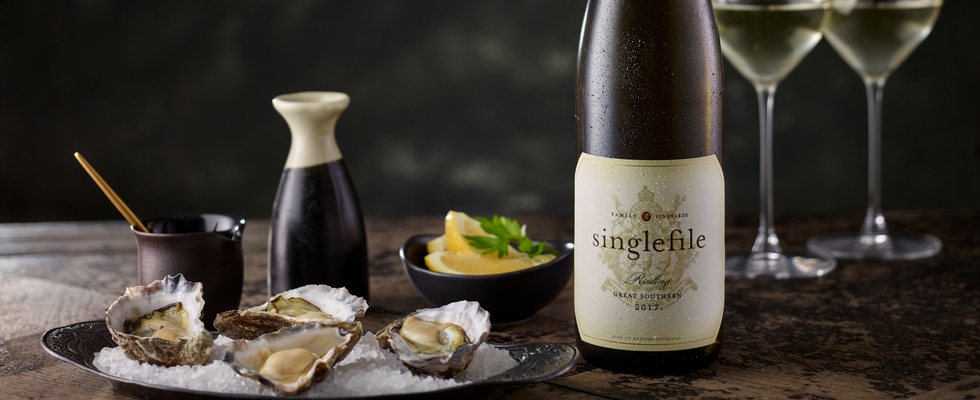 Western Australia's Great Southern region is blessed to have so many unique areas for growing Riesling – they all add such great diversity to the resulting wines. Riesling is all about the vineyard and the terroir. As winemakers, we try not to influence the final wine and just let the natural flavours shine through. (Riesling is the wine winemakers love to drink!) Great Southern's Porongurup, Frankland River and Mount Barker subregions are all becoming nationally and internationally recognised as premium Riesling regions. And all these regions are showcased in Singlefile's Rieslings.
Singlefile's 2017 Great Southern Riesling is a blend of Frankland River fruit, which gives the wine a floral lime lift, and Porongurup fruit, which gives the wine its steely backbone and citrus flavour. The colour is light with a green tinge and the aromatics display apple blossom and citrus tones. The palate shows a softly textured, crisp style with subtle mineral undertones and a tight acidic finish, which is a feature of vineyards in the Porongurups. It's anticipated this wine will develop a minerality and poached citrus richness over time while retaining its linear acidity.
Singlefile's 2017 Mount Barker Riesling, which is a wine club only wine in our Single Vineyard range, boasts a steely minerality gleaned from fruit grown on 30-plus-year-old vines. The Pearse Vineyard is an established dry-grown vineyard situated on the southwest plains of the Mount Barker sub region in the Great Southern. It is very low yielding, which creates the intense lime/citrus characters in this powerful Riesling. The colour is light and the aromatics display a combination of citrus flavours of lemon and grapefruit. The palate is characterised by the acidic drive of the wine and finishes with lingering acidity. This dry Riesling will develop gracefully with age.
This noble variety has the ability to age into a great wine that speaks volumes of its origin. The high levels of acidity and perky fruit characters provide the perfect structure for maturation. Over time, the fruit characters of lemon and lime and floral notes acquire richer honey nutty, toffee-like characters.
In great news, Riesling is enjoying a renaissance of sorts in Australia. In the 1970s, wine drinkers held the view that this variety was always crafted into a sweet wine. Why? Many Aussie whites that were a blend of varietals were mislabelled as Riesling, following the trend of imported white wines being labelled as Rhine Riesling. At that stage, many consumers weren't as savvy about the characteristics of individual grape varieties as they are today. Since then, winemakers have focused strongly on creating fresh, vibrant styles and this evolution has changed consumer perception to the point that Riesling has shaken off its image as a sweet wine.
Another reason this variety is growing in popularity is that our eating habits have changed. We're eating lighter, greener and healthier foods like salads, pasta and seafood – and they all drink perfectly with wines displaying clean, vibrant fruit flavours found in a sublimely flavoured, intense and refreshing Riesling.
So we hope you join the Riesling Renaissance and discover a new favourite – do you prefer the floral and lime aromatics and citrus tones of Singlefile's Great Southern Riesling or the power and acidic drive of the Mount Barker Riesling? The best way to find out is to invite this glorious drop to your table and savour it with your favourite dish of the moment. Warning: they're both dangerously drinkable.