19 December 2016 | Singlefile Wines Blog | Patrick Corbett
2016 at Singlefile Wines
The year 2016 may go down as the year Trump came to power as the leader of the free world. Or maybe the year Rio de Janeiro hosted the Olympic Games. The affairs of Singlefile may not compare on this global level but it certainly was a big year for the entire team.
We hosted more events, tastings and dinners than ever before in 2016. Our Lamont's Tasting & Dinner was a huge success, as was our Cott & Co. dinner. The Raising Riesling tasting with our fellow Great Southern producers at the Royal Perth Yacht Club was a roaring success. And we're hoping to host even more events in 2017, so we can meet Singlefile supporters in person, so stay tuned!
After a long, cool and wet winter, vintage 2016 yielded great results in the Great Southern region, with Chardonnay, Semillon, Sauvignon Blanc and Riesling looking particularly impressive. The young Pinot Noir vines are also looking spectacular and we look forward to our first harvest from the three year olds in 2017. If you'd like to read more about how the climate and vintage for the upcoming harvest is progressing, read here. All our wines are progressing well, so watch for our white releases next year and reds soon after. Singlefile's wine club is growing by the day, with happy members enjoying limited releases and new wines as soon as they hit the shelves. If you'd like to join the club, find out more here as we've just introduced a new level of membership for red and white lovers.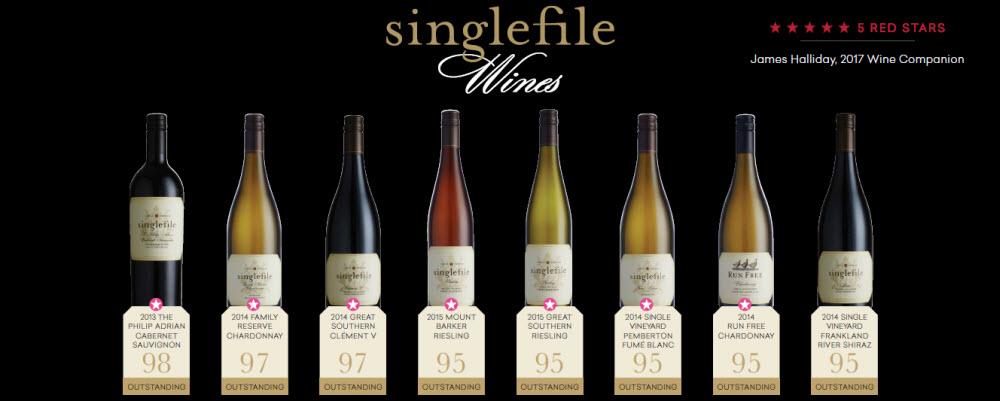 We continue to be humbled by positive reviews from customers, aficionados and experts alike. Eight wines received 95 points or more in James Halliday's 2017 Australian Wine Companion, seven of these wines being awarded the red value star. Singlefile was also awarded a Five Star Winery rating. Two of our wines featured in Ray Jordan's Top 100 Reds, and we were once again named 'Star Cellar Door' for the Great Southern by Gourmet Traveller Wine magazine. And most recently, our 2014 Single Vineyard Denmark Family Reserve Chardonnay was awarded the 'Nillumbik Cellars Winestate Australia and NZ Chardonnay of the Year 2016'.
We hope that your 2016 was happy and full of good health, and wish you all the best for 2017.