Torta Della Nonna with Lemon Custard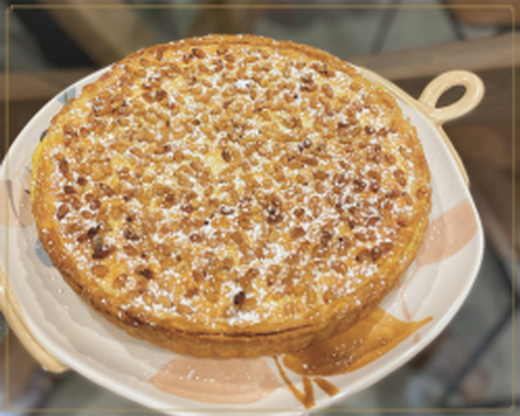 Recipe Date:
28 September 2023
Ingredients
1/3 cup (110g) store-bought lemon curd
1 egg, lightly beaten (for eggwash)
1/3 cup (50g) pine nuts
icing sugar, to dust
~ FOR THE PASTRY ~
2 2/3 cups (400g) plain flour, plus extra to dust
2 tbsp caster sugar
1 tsp baking powder
180g cold unsalted butter, chopped
1 egg
~ FOR THE CUSTARD FILLING ~
5 egg yolks (reserve whites for another purpose)
1/2 cup (110g) caster sugar
1/4 cup (35g) cornflour
zest of 1 lemon, finely grated
2 cups (500mL) milk
1 1/2 tbsp lemon juice
Directions
For the pastry, whiz flour, sugar, baking powder and a pinch of salt flakes in a food processor until combined. Add butter and whiz until a breadcrumb texture forms. Add egg and 2 tbsp chilled water and process until dough just starts to come together into a ball. (You may need to add up to another 1 tbsp of chilled water if the pastry looks a little dry). Divide pastry into two-third and one-third portions. Enclose each in plastic wrap and place in the fridge to chill for 30 minutes.

Meanwhile, prepare the lemon custard. In a small saucepan, heat milk until hot but not boiling and then remove from heat. Whisk yolks and sugar in a large bowl until pale, creamy and doubled in volume. (This is easiest to do in a stand mixer fitted with the whisk attachment). On a low speed, whisk in cornflour and lemon zest until combined. Slowly whisk in hot milk until combined. Pour mixture into a medium saucepan over medium-high heat and cook, stirring, for 5 minutes or until mixture starts to bubble and becomes a thick custard. Stir in lemon juice. Transfer to a large bowl. Cover with plastic wrap, ensuring the wrap is touching the surface. Poke a few holes in wrap with a skewer for steam to escape. Chill for the custard for 40 minutes, or until cool.
Meanwhile, on a lightly floured surface, roll out the larger pastry portion to a 28cm round. Use pastry to line a 24cm, 3cm deep loose-based tart tin. Trim most of the excess pastry, leaving a small overhang. Chill for 30 minutes.

Preheat oven to 200°C/180°C fan-forced. Place pine nuts in a small bowl and cover with cold water to soak for 5 minutes. (This will prevent the pine nuts from burning during baking). Roll out remaining pastry to a 24cm round. Spoon cooled custard into tart shell and then swirl through the lemon curd. Top with pastry round. Press edges to seal and trim any excess. Drain the water from the pine nuts, and pat dry with a tea towel. Brush the top of the tart with eggwash and sprinkle evenly with pine nuts. Bake for 45 minutes or until golden brown. Set aside to cool.

Once the tart has completely cooled, remove from pan and dust with icing sugar. Serve with limoncello, your favourite dessert wine, or a cup of tea or coffee!
Adapted from Lucy Nunes' recipe in delicious. Magazine. May 2023