Pams 'Best-ever' Butter Chicken with Cauliflower Rice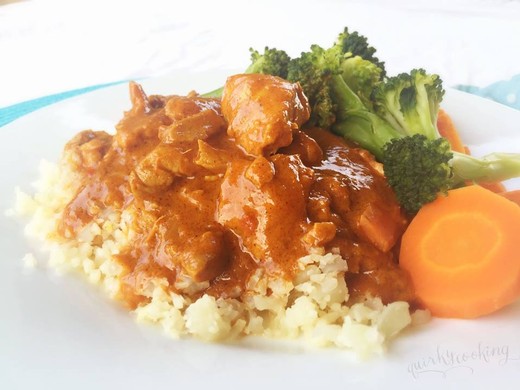 Recipe Date:
29 April 2020
This delicious butter chicken recipe was created by the very talented Jo Whitton from quirkycooking.com.au and is featured in her book 'Life Changing Food'. This is one of many recipes in 'Life Changing Food' that have become firm favourite in our households. We thank Jo for allowing us to share her recipe.
Ingredients
4 garlic cloves
3 cm fresh ginger, peeled
1 long red chilli, deseeded and halved
1 brown onion, halved
100 g ghee or coconut oil
2 tsp ground paprika
3 tsp garam masala
1 tsp ground cardamom
2 tsp ground coriander
2 tsp ground cumin
2 tsp ground tumeric
500 g coconut cream
3 Tbsp tomato paste
3 tsp sea salt
1 kg chicken thigh fillets, cut into 3-5 cm pieces
Directions
Both the thermomix and stovetop methods are available at:
Pam also loves to serve this with Pan Fried Flatbreads from Life Changing Food by Jo Whitton.