2019 Singlefile 'The Vivienne' Denmark Chardonnay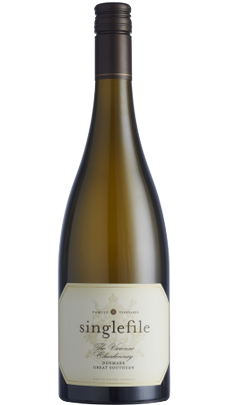 2 bottles per Collector Member
LOG IN TO PURCHASE
VINEYARD & WINEMAKING
The 2019 growing conditions in the Denmark sub-region of the Great Southern delivered a reasonably dry winter and spring. Summer had slightly cooler temperatures. The growing season allowed for flavours to develop while natural acidity was retained. These conditions, combined with the ongoing soil management program, developed to improve natural microbial activity, made for a high-quality vintage. 'The Vivienne' Chardonnay aims to capture the essence of our Denmark chardonnay vineyard from multiple perspectives, comprising three separate passes of hand picking from different panels of the vineyard on 6th March (Be 11.5, PH 3.13), 18th March (Be 11.9, PH 3.14) and 29th March (Be 12.3, PH 3.22).
Each parcel of fruit was chilled overnight, before whole bunch pressing direct to new and seasoned French barriques, for fermentation on full solids by natural yeasts. The wine was allowed to mature on lees without sulphur for approximately five months with some spontaneous malolactic fermentation taking place. The wine was matured for a total of ten months in oak before being racked to a stainless tank and prepared for bottling. It was bottled on 27th February 2020 and then bottle aged for a further eighteen months.
Only 126 cases of 'The Vivienne' were produced in 2019.
THE WINE
Fine aromatics, reminiscent of floral, citrus and flint, build in intensity as the wine breathes in the glass, to show layers of funky wild ferment and lees-derived complexity. The palate has great depth of flavour, with clarity and poise, all the elements following a long line of mineral acidity.
CRITIC REVIEWS OF NOTE
2019 Vintage
96 points, Top of Chardonnay Class, Winestate Magazine Wines of the West Awards, May/June 2022
96 points, Barry Weinman, finewineclub.com.au, March 2022
2018 Vintage
97 points, value rosette, James Halliday, 2022 Halliday Wine Companion, Aug 2021
5 stars, Huon Hooke, The Real Review, Apr 2021
4.5 stars, Winestate Magazine, March/April 2021
2017 Vintage
4 stars, James Suckling, jamessuckling.com, Mar 2020
98 points, Top 100 Wines, James Halliday, Australian Wine Companion, Nov 2019
2016 Vintage
96 points, James Halliday, Australian Wine Companion, Aug 2019
93 points, James Suckling, jamessuckling.com, Jun 2019
96 points, Sarah Ahmed, Decanter Magazine, Mar 2019
17.0 points, Tamlyn Currin, JancisRobinson.com, Dec 2018
2015 Vintage
Australia's Best Chardonnay, James Halliday, Australian Wine Companion, Aug 2018
98 points, James Halliday, Australian Wine Companion, Aug 2018
95 points, Campbell Mattinson, The Wine Front, Jun 2018
18.5+ points, Barry Weinman, Fine Wine Club, May 2018
95 points, QWine, May 2018
92 points, Huon Hook, The Real Review, Jul 2018
2014 Vintage
98 points, James Halliday, Australian Wine Companion, Aug 2017
19 points, Regan Drew, vinonotebook.com, Oct 2017
18.5+ points, Barry Weinman, Fine Wine Club, July 2017
2013 Vintage
96 points, James Halliday, Australian Wine Companion, Jul 2015
96 points, Campbell Mattinson, The Wine Front, May 2016
95 points, Huon Hooke, Aug 2016
92 points, Jeremy Oliver
2012 Vintage
97 points, James Halliday, Australian Wine Companion, Mar 2014
97 points, Gourmet Traveller Wine Magazine, Feb 2015
95 points, Huon Hooke, Nov 2014
18.5 points, Barry Weinman, Fine Wine Club
95 points, Gary Walsh, The Wine Front
'Simply Wonderful', Regan Drew, Vinonotebook, Aug 2015