6 June 2016 | Singlefile Wines Blog | Viv Snowden
Meet Singlefile's Owners, Phil and Viv Snowden
Phil and Viv Snowden live and breathe Singlefile Wines, from tending to the beautiful property with its vines and resident geese, to working in the cellar door and ensuring your precious wine lands at your doorstep. Get to know them better with this Q&A.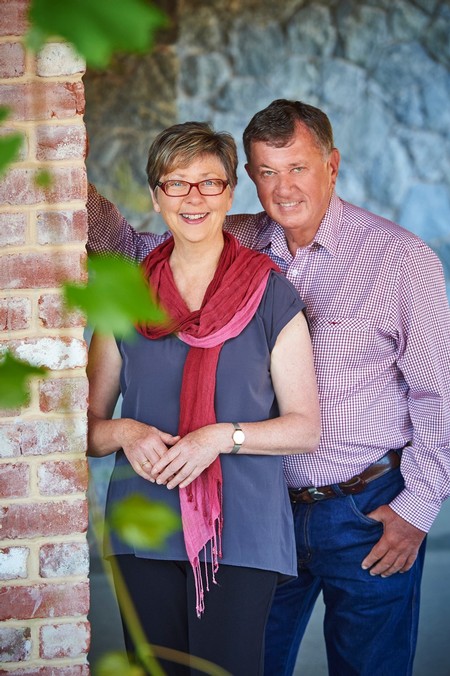 Q After a long career in mining consulting, how did you end up in winemaking and viticulture?
After retiring from the mining industry, we decided to turn our attention to our long-held passion for making and enjoying great wine. We settled on a location where cool-climate wines of outstanding quality could be produced and where we could build a family business.
Q What was it about Denmark that attracted you so much?
Denmark is tucked away in the south-west corner of Western Australia, in the wine sub-region of the Great Southern. In 2007, we discovered an established north-facing vineyard (planted in 1989) with a good reputation in a beautiful setting surrounded by towering eucalypts with plentiful water. The property had "good bones" and we were inspired by the challenge to develop it into a world-class chardonnay producer.
Q Have you always been passionate about wine?
With our geological backgrounds, we have a particular interest in terroir. Once we realised viticulture was a real possibility for us, our project became a growing passion and our enjoyment and fledgling knowledge of viticulture and winemaking became a new and rapid learning experience, with significant input from the local experts.
Q Your daughter Pam and son-in-law Patrick are now involved in Singlefile's management – what's your involvement now?
We enjoy everyday interaction with the operational aspects of running the vineyard and the cellar door as well as mentoring and strategic business planning.
Q Which Singlefile wine takes pride of place on your dining table?
Pat and Pam named our limited release wines 'The Philip Adrian' Cabernet Sauvignon and 'The Vivienne' Chardonnay after us both, much to our embarrassment. But, names aside, we are delighted with the wines.
Q What makes Singlefile Wines stand out from the rest?
The Singlefile Wines represent consistent high-quality, well-made wines from great fruit sourced from the regions in which the varieties grow best.
Q Outside of wine and Singlefile, what keeps you busy and feeds your soul?
The Denmark community is an eclectic multi-layered society where talent abounds and there is a niche for everyone. In our case it usually revolves around food and wine, but we often enjoy music and art/craft entertainment as well as reading, gardening and walking. Our greatest reward is the time we have to spend with our young grandchildren.
Q If you could drink any wine right now, what would it be?
An unforgettably divine and beautifully presented Champagne produced in the basement of the home of the modest husband and wife Champagne producer, Champagne Jean-Claude Mouzon, which lies in the prestigious Grand Cru village of Verzenay. Four generations on, it's now in the capable hands of Cédric and Frédérique Lahemade-Mouzon.
Q What are your favourite varieties to drink?
Viv likes Sparkling/Champagne, Riesling and Chardonnay or a light Rhône blend; Phil prefers Shiraz and Cabernet Sauvignon or a sturdy Bordeaux blend.
Q Apart from Singlefile, which other wineries do you most respect?
We have a lot of local talent in Great Southern and enjoy interacting with many of the wineries in our area. We've had an exciting journey with our winemakers Coby Ladwig and Mike Garland and our consultant Larry Cherubino. We shared a successful dégustation event during Taste Great Southern this year with Moombaki, which produces all its wines from grapes grown on its property in Denmark. In Margaret River, Gralyn is a family business that has followed its own course and maintained a strategy of quality, not quantity, which we admire.