2016 Singlefile Great Southern Semillon Sauvignon Blanc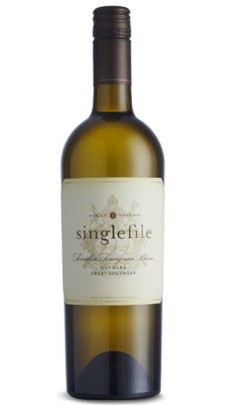 $22.50 as part of a straight or mixed case
VINEYARD & WINEMAKING
From selected sauvignon blanc and semillon vineyards in the Great Southern region of Western Australia. Picked in early March 2016 to produce a fresh, dry, aromatic blend that showcases the varietal characteristics of this classic Western Australian blend. The semillon was picked before dawn on 1st March 2016, the sauvignon blanc a few days earlier on 25th February. Both varieties were gently de-stemmed and crushed immediately. Light pressing followed with the free run juice separated and fermented in tank. The parcels of semillon and sauvignon blanc were kept separate throughout. The fermentation was carried out in stainless steel tanks at 14 degrees for 14 days. At completion, the wines were racked off their lees. Thereafter blending trials were carried out to produce what we considered to be the best possible semillon and sauvignon blanc blend. Our goal is to produce a dry, fresh and aromatic styled wine with structure and length of flavour. The final blend was 60% semillon and 40% sauvignon blanc.
THE WINE
The colour is light, bright and glistening. The wine displays aromatics of gooseberries and tropical fruit. The palate shows a textural mouth feel which lingers to a refreshing dry finish and a subtle flinty minerality.
REVIEWS OF NOTE
18.2 points, John Jens, Western Suburbs Weekly, Sep 2016
92 points, Ray Jordan, The West Australian, Nov 2016
92 points, Jane Faulkner, Australian Wine Companion, Feb 2017
'Very good', Regan Drew, Vinonotebook, Nov 2016
17.5 points, Barry Weinman, Fine Wine Club, Oct 2016
Wine Specs
Varietal
Semillon Sauvignon Blanc
Product Reviews
Maggie
(03/02/2017 at 9:56 PM)
What a delightful summer wine. Just loved the clean fresh taste on the tongue from the very first mouthful and then the aromatics kicked in as I swirled it around my mouth. Loved it so much have made this delightful wine my very favourite summer drink on a lazy Sunday afternoon with Friends around and prawns cooking on the BBQ.
Ted
(17/05/2017 at 6:06 PM)
This our new favourite wine. We've tried a lot of premium whites and this one wins hands down for quality and price. Beautifully crafted and full of deliciousness and jewel-like colour. Perfect with Seafood and Asian dishes (and even roast pork!)