About Singlefile Wines
Singlefile Wines represents the pursuit of excellence. Every wine in our range embodies the drive to craft wines of exceptional quality from the Great Southern wine region.
At Singlefile we strive to excel in every task that comes before us. From rigorously analysing soil composition and climatic variations through to vigour in the winery, Singlefile's approach to winemaking is nothing short of singular.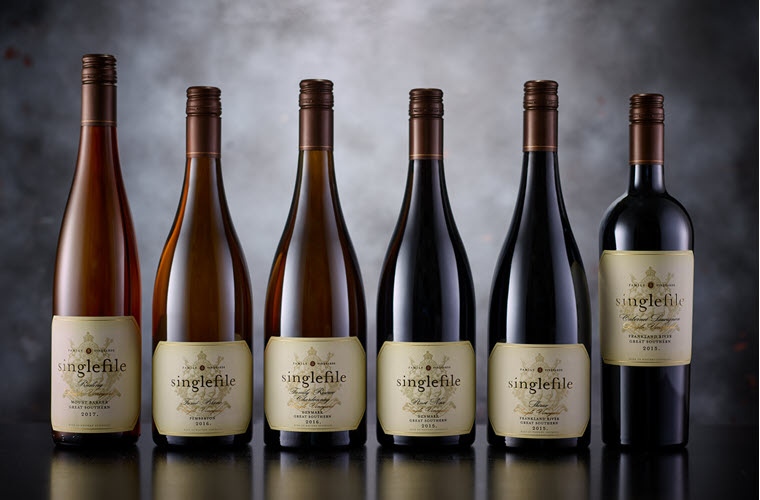 Singlefile Wines are remarkable expressions of Western Australia's unique Great Southern wine region. Every single corner of this region is golden, imparting distinctive attributes to each of the parcels of fruit that alight in our winery. We handpick sites that best suit each of our varieties. Invariably, these sites are premium cool-climate settings, boasting supreme conditions to grow grapes of outstanding quality.
Singlefile fruit is treated with as little synthetic material as possible, instead allowing the beauty of the natural grape, nurtured by Mother Nature, to shine in the final wine.
In the winery, we also embrace the "less is more" practice, where wines are allowed to develop with minimal intervention and maximum love and tender care.
Why Singlefile?
Singlefile Wines takes its name from the resident geese, who parade gracefully in single file each day at dusk en route to the lake below the vineyards. The crest on the Singlefile Wines label articulates the family's international heritage. The springbok is the national animal for South Africa and appears on that country's coat of arms. The stag is the emblem of County Clare in Ireland, where Patrick was born. Most importantly, the Singlefile moniker represents the singular drive to craft exceptional Great Southern wines.