2021 Singlefile Great Southern Malbec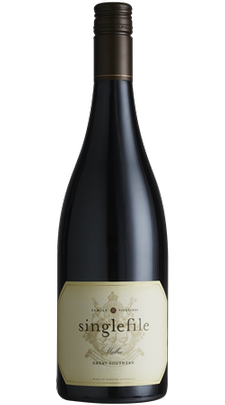 VINEYARD & WINEMAKING
This 2021 Great Southern Malbec fruit was picked and sorted on 1st April 2021. It was cold soaked in small fermenters for two days before undergoing an extended and gentle maceration allowing for the softening of the tannins with the goal of creating a wine with structure and texture along with the natural juicy flavour profile of malbec. Twenty five percent of the wine was matured in new Bordeaux oak barriques. The balance went to one- and two-year old Bordeaux barriques for seven months maturation before final preparation for bottling in December 2021.
THE WINE
This wine displays bright and lifted perfumed aromas of plum, dark berries, chocolate and spicy oak support. The wine is effortlessly mouth filling with a lovely soft and juicy red fruit flavour profile balanced with natural acidity and gentle fine-grained tannins which provide structure to a long finish.
Join the waitlist for our 2022 Great Southern Malbec and be the first to know when it is released.
CRITIC REVIEWS OF NOTE
2021 Vintage
95 points, Top in Category, Wines of the West, Winestate Magazine, May/June 2022
2020 Vintage
93 points, Wine Showcase Magazine, Jun 2021
91 points, Wine Showcase Magazaine, Mar 2021
2019 Vintage
4.5 stars, Best Wines of 2020, Style Tastings, Winestate Magazine, Annual Edition 2021
Gold, 94 points, Wine Showcase Magazine, Jul 2020
2018 Vintage
4 stars, Best Wines of 2020, New Releases, Winestate Magazine, Annual Edition 2021
94 points, James Suckling, Mar 2020
4 stars, Winestate Magazine, Feb 2020
Wine Specs
Harvest Date
12th April 2019
Product Reviews
Sylvia Hodgetts
(08/12/2019 at 10:22 AM)
The Malbec is refined, smooth and has long lasting finish that's a delight to drink. It has balanced fresh dark berry and spiced oak approach that is smooth and classy. Paired with grilled lamb and rocket salad, this is the perfect red for all year enjoyment.
Neville
(20/05/2020 at 12:07 PM)
The nose and the inky purple hues invite you into a full bodied wine of some complexity. Brooding, dark fruit flavours fill the middle and back palate with a velvety texture, and the light oak touch integrates the whole pleasurable experience. To be enjoyed with a wide range of pasta dishes.
Russell Burder
(06/06/2020 at 9:23 PM)
Silky smooth mouth feel. Hint of coco on the pallet followed by joyous bursts of cherry and red current fruit.
Ben Ward
(23/06/2020 at 2:59 PM)
A young wine has the classic Malbec characteristics with purple hues, big fruits and intensity front of the mouth, but lacks the long finish and complexity in 2020. Time will be kind to this wine, smoothing out the big fruits and improving the length and carry of the tannins and savoury notes on the nose. Lovely mulberry and plums with chocolate at the back of the palate. Goes REALLY well with tomato based pasta meals and red meats, matching the sweet and savoury notes.
Norman O'Bryan
(01/03/2021 at 9:37 AM)
Very rich burgundy in colour. Aromas of ripe plum, with a delicate oak surrounding it. Surprisingly smooth and without any tannin or acid overlay. Would complement any Indian/Sri Lankan dishes, especially red meat curries. Delicious and long-lived in the mouth.
Matty S Smith
(20/03/2021 at 7:20 PM)
This 2020 Malbec has rich fruity flavours with a subtle spice finish on the palate. Smooth on the first sip with the flavours becoming boulder after a few hours of airing. Very enjoyable to drink on its own or with a meal.
Luke Sweedman
(30/03/2021 at 5:30 PM)
An intoxicating approachable nose hints at the wonderful mouth filling full flavour of the wine. Colours in the glass resonate of dark purple plum with berries also adding to the dark brooding intensity. A delicious satisfying wine with nuances of blackcurrant and blueberry with tones of tobacco and a lingering aftertaste that is silky dry and classical. A Malbec that reminds me of the best French Malbec's
James Keneally
(08/04/2021 at 7:01 PM)
A bright dark purple coloured that swirls with blackberries, chocolate, cocoa and hint of stalk. The palate is broad and persistent with soft tannins providing the bed for blackberry fruits, little bit of plum, tobacco and leafy influences finishing with an attractive bitterness of the cocoa.
Steve Hamilton
(09/04/2021 at 3:44 PM)
Malbec is one of my favourite varieties. Singlefile has made a more approachable Malbec, Flavours that stood out were, blackberries, Mulberries, dark chocolate and spice, As it sat on my palate for a few seconds. The wine just went down well assisted by those silky smooth tannins. This Malbec would benefit with some time in a decanter and also could cellared for 10-15 years. I need to get some shares in Singlefile Malbec!!