2018 Singlefile Single Vineyard Denmark Family Reserve Chardonnay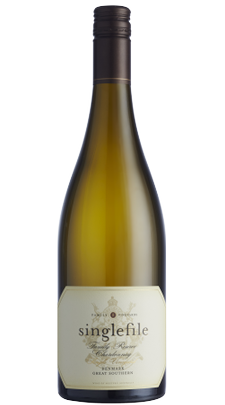 $54.00 as part of a straight or mixed case

VINEYARD & WINEMAKING
Walking the Singlefile vineyard in the Denmark sub-region of the Great Southern we classify our chardonnay fruit and determine the ideal picking time to produce a cool-climate chardonnay with both power and finesse. Planted in 1989, the vineyard straddles the 35-degree latitude line and is 60 metres above sea level. The vineyard slopes north north-west in fertile well drained Karri loam soils with abundant micro fauna and flora. The vineyard is a very slow ripening and tends to maintain its natural acidity while developing flavour. The 2018 fruit, harvested by hand on 3rd April, was chilled overnight, then whole bunch pressed and fermented in 40% new and 60% one-year old French oak barriques from the Francois Freres, Seguin Moreau and Ermitage cooperages. The wine spent eight months in oak with partial (~12% malolactic fermentation to develop mouth feel), with lees stirring occurring at weekly intervals during the first six months.
THE WINE
This wine has aromas of intense grapefruit and white peach with a touch of orange blossom. The palate experiences a concentration of citrus and stone fruit with a touch of creamy nutty texture due to a partial malo-lactic fermentation. The wine is effortlessly mouth filling with a delicate balance of fruit and acidity and a long lingering finish. A wine of both power and finesse, it is well suited to rich poultry or creamy shellfish dishes with sautéed vegetables.
CRITIC REVIEWS OF NOTE
2018 Vintage
96 points, Ray Jordan, The West Australian 2020 Wine Guide, Nov 2019
95 points, Steven Creber, Australian Wine Companion, Aug 2019
93 points, James Suckling, jamessuckling.com, Jun 2019
94 points, Steve Leszczynski, QWine, Jun 2019
4.5 stars, Best of the West, Winestate Magazine, May 2019
18.6 points, Barry Weinman, Fine Wine Club, Feb 2019
2017 Vintage
16.5 points, Tamlyn Currin, JancisRobinson.com, Dec 2018
95 points, Ray Jordan, 2019 WA Wine Guide, Nov 2018
95 points, Ned Goodwin, Australian Wine Companion, Aug 2018
94 points, Steve Leszczynski, QWine, Jul-2018
2016 Vintage
18.75 points, Regan Drew, vinonotebook, Jun-2018
95 points, Top 100 New Releases, Gourmet Traveller Wine, Apr-2018
95 points, Jane Faulkner, Australian Wine Companion, Aug-2017
95 points, Huon Hooke, The Real Review, Jan-2018
94 points, QWine, Jan-2018
18.5 points, Barry Weinman, Fine Wine Club, Jan-2018
2015 Vintage
97 points, James Halliday, Australian Wine Companion, Aug 2016
Top Chardonnay, Mike Bennie, Gourmet Traveller Wine Magazine, May 2016
2014 Vintage
2016 Chardonnay of the Year, Winestate
97 points, James Halliday, Australian Wine Companion, Aug 2015
94 points, Huon Hooke, Jun 2015
18.6 points, John Jens, Western Suburbs Weekly, May 2015
9.5/10 points, Regan Drew, APN ARM, May 2015
18/18.5 points, Barry Weinman, Fine Wine Club
5 Stars, Lester Jesberg, Winewise Magazine
Product Reviews
Josie martin
(06/07/2019 at 6:26 PM)
This wine is a beautiful, fresh chardonnay that has the right amount of acidity and lovely finish in the mouth. Stunning colour too!
Nicole Payne
(08/12/2019 at 10:28 AM)
I literally drove to Denmark to get my hands on this beauty! I'm a huge fan of the big, bold, buttery Chardonnays and this one is probably the I've ever had! Beautiful oak leaves the most glorious taste in the mouth. Divine!!
Roger Schulz
(09/12/2019 at 9:59 PM)
This is a delicious Chardonnay. Not like any I have tried before. The first time I visited singlefile I wasn't keen on trying this but the cellar door lady insisted I did. Now it is one of my favourite wines.
Andrew Boyd
(24/01/2020 at 7:40 PM)
I am perhaps biassed in thinking that the thin modern style chardonnay fashion removes access to a wonderful full bodied style of white wine. This wine is a revelation, the old too much oak criticism is not applicable. This is a beautiful well balanced chardonnay that is truly excellent. More please!
Denni Clifton
(25/02/2020 at 5:16 PM)
This was an outstanding Chardonnay. Not normally a great fan of Chardonnays but this certainly changed my mind. It had body, and the balance of flavours on the tongue gives this a top rating! Excellent wine!
Peterthewineguy
(01/03/2020 at 5:36 PM)
Such a consistently delicious Chardonnay year after year. The 2018 is big and buttery with excellent acid structure. Super enjoyable now but time wouldn't be an enemy here. One of my favourite Australian chardonnays
Alice
(21/03/2020 at 1:11 PM)
If you fancy a refreshing white then this is a lovely choice. Easy to drink, but full of flavour. It was a real treat!
Peter
(28/03/2020 at 10:58 AM)
A beautifully balanced buttery and oaky chardonnay with exceptional structure and length. Straw coloured with lime on first taste giving way to lovely length with hints of mango. Will undoubtedly cellar well for at least 10-15 years. One of the finest examples of WA chardonnay and must be considered as one of Australia's best.
Chris
(29/03/2020 at 7:18 PM)
One of the finest examples of 2018 WA Chardonnay, this wine possesses exceptional balance and finesse. A fresh burst of lime and grapefruit on the palate melds with ripe white peaches. Vanillin oak is seamlessly integrated, while a creamy mouthfeel and buttery notes have been imparted through partial malolactic fermentation. Complex and undoubtedly satisfying, this wine provides as much as you can expect from a Chardonnay, with an exceptionally long finish that could easily tempt you in to another glass. The full package.
Nicole P
(01/04/2020 at 8:28 PM)
This golden goodness is my absolute FAVOURITE chardonnay! Buttery, oaky, amazingness. I wish I had the willpower to cellar it for a few years. Nectar of the Gods! YUM!!!!!
Pip
(01/04/2020 at 10:00 PM)
This delicious lightly golden Chardonnay is divine. With its blossom, creamy peach and honey taste and long finish. Would recommend you try, even if Chardonnay isn't typically your type. Pairs well with seafood.
Brooke
(03/04/2020 at 9:44 PM)
I'm not usually a big fan of Chardonnay but this wine definitely changed my mind. It was oaked without being too heavy. Crisp yet refreshing. Definitely worth a try if you don't usually like Chardonnay - I was pleasantly surprised and would recommend you give it a try!