2019 Singlefile Great Southern Semillon Sauvignon Blanc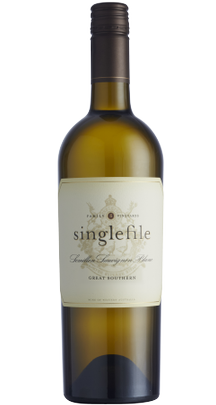 $22.50 as part of a straight or mixed case

VINEYARD & WINEMAKING
2019 delivered strong growing conditions, with winter and spring being reasonably dry and summer holding slightly cooler temperatures which allowed for flavours to develop while retaining natural acidity.
From selected Sauvignon Blanc and Semillon vineyards in the Great Southern region of Western Australia. Picked to produce a fresh, dry, aromatic blend that showcases the varietal characteristics of this classic blend.
Both the Semillon and Sauvignon Blanc were picked before dawn on 6th March 2019. Both varieties were gently de-stemmed and crushed immediately. Light pressing followed with the free run juice separated and fermentation taking place in tank. The parcels of Semillon and Sauvignon Blanc were kept separate throughout. The fermentation was carried out in stainless steel tanks at 14 degrees for 16 days. At completion, the wines were racked off their lees. Thereafter blending trials were carried out to produce what we considered to be the best possible Semillon and Sauvignon Blanc blend.
Our goal is to produce a dry, fresh and aromatic styled wine with structure and length of flavour. The final blend was 58% Semillon and 42% Sauvignon Blanc.
THE WINE
The colour is light, bright and glistening. The wine displays aromatics of gooseberries and tropical fruit. The palate shows a textural mouth feel which lingers to a refreshing dry finish and a subtle flinty minerality.
CRITIC REVIEWS OF NOTE
2018 Vintage
91 points, James Halliday, Australian Wine Companion, Aug 2019
90 points, Campbell Mattinson, The Real Review, May 2019
91 points, Jeremy Oliver, Mar 2019
17.25 points, Regan Drew, Vinonotebook, Jan 2019
91 points, Steve Leszczynski, Qwine, Sep 2018
2017 Vintage
92 points, Ned Goodwin, Australian Wine Companion, Aug 2018
'Awesomely Refreshing', John Fordham, The Sunday Telegraph, Jun 18
91 points, Steve Leszczynski, QWine, Mar 2018
90 points, Campbell Mattinson, The Wine Front, May 2018
2016 Vintage
Top 100 Wines of 2018, Rob Geddes, 2018
92 points, Jane Faulkner, Australian Wine Companion, Feb 2017
92 points, Ray Jordan, The West Australian, Nov 2016
18.2 points, John Jens, Western Suburbs Weekly, Sep 2016
Very Good, Regan Drew, Vinonotebook, Dec 2016
Wine Specs
Varietal
Semillon Sauvignon Blanc
Product Reviews
Brooke
(11/04/2019 at 8:10 PM)
One of the best SSB's I've EVER had. Can't get enough of it. It's dry and fresh but not too dry :) Simply a delight to drink with a nice cheese platter which is what I plan on doing with it this weekend. Thanks again Singlefile for a great SSB and the reason I stay in the wine club