Classic Duo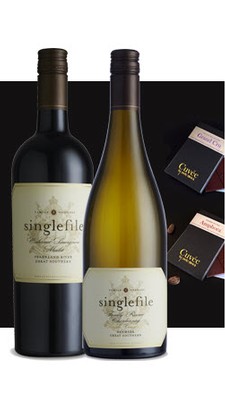 The cabernet sauvignon has a complex aroma of black currant, plum and cassis with juicy dark fruit flavours balanced with gentle oak tannins. The defined cocoa flavour in the dark chocolate is balanced with flavours of red plum and cherry creating a perfect match and a choc-cherry liqueur sweetness.
The chardonnay has aromas of intense grapefruit and white peach and the palate has a concentration of citrus and stone fruit with cashew nuts and creamy texture. Black forest cherry flavour and the melt-in-the-mouth texture of the chocolate complements the oaky intensity of the chardonnay, giving a clean finish to a most satisfying pairing.
Enjoy these pairings at home for just $97 - discounts are applied automatically at check-out.
1 x 2017 Single Vineyard Family Reserve Chardonnay – usually $50
1 x Cuvee Amphora 65% Dark Chocolate (70g) – usually $12
1 x 2015 Single Vineyard Frankland River Cabernet Sauvignon – usually $37
1 x Cuvee Grand Cru 75% Dark Chocolate (70g) – usually $12