2018 Singlefile Single Vineyard Mount Barker Riesling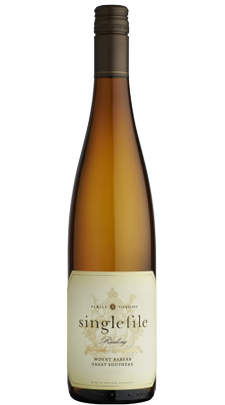 $28.80 as part of a straight or mixed case

VINEYARD & WINEMAKING
The Blue Lake vineyard is an established dry grown vineyard situated on the south-west plains of the Mount Barker sub-region in the Great Southern. The Riesling fruit was harvested in March 2018.
The primary focus of the winemaking process was to preserve the delicate flavours and aromas of the vineyard's fruit which was handpicked to avoid macerations (phenolics) and whole bunch pressed for the same reason. The juice was cold settled and fermented with a neutral yeast strain at a temperature of 14°C before preparation for bottling in July 2018.
THE WINE
The colour is light and the aromatics display a combination of citrus flavours of lemon and lime. The palate is characterised by the acidic drive of the wine. A dry riesling, the wine displays intense lime flavours with subtle minerality (which will develop further with age). The wine has a long finish with a lingering acidity.
REVIEWS OF NOTE
2018 Vintage
18.75 points, Regan Drew, Vinonotebook, Nov 2018
90 points, Huon Hooke, The Real Review, Nov 2018
96 points, James Halliday, Top 100, Nov 2018
94 points, Steve Leszczynski, QWine, Sep 2018
2017 Vintage
96 points, James Halliday, Australian Wine Companion, Aug 2018
92 points, Toni Paterson, The Real Review Feb 2018
18 points, Regan Drew, Vinonotebook, Dec 2017
93 points, Campbell Mattinson, The Wine Front, Nov 2017
94 points, QWine, Oct 2017
2016 Vintage
96 points, James Halliday, Australian Wine Companion, Sep 2016
95 points, Huon Hooke, Dec 2016
18.8 points, John Jens, Western Suburbs Weekly, Sep 2016
18.7 points, Barry Weinman, Fine Wine Club, Oct 2016
'Has Presence', Regan Drew, Vinonotebook, Nov 2016
'Superb', Ralph Kyte-Powell, Canberra Times, Dec 2017
2015 Vintage
97 points, James Halliday, Australian Wine Companion, Oct 2016
92 points, Campebell Mattinson, The Wine Front, Jan 2016
Barry Weinman, Fine Wine Club, Oct 2015
'Exciting', Regan Drew, Vinonotebook, Nov 2015