2018 Singlefile Great Southern Botrytis (375ml)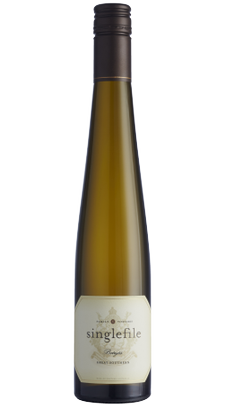 $22.50 as part of a straight or mixed case
VINEYARD & WINEMAKING
2018 delivered excellent growing conditions, with winter and spring being reasonably dry and summer holding slightly cooler temperatures.
As the weeks, months and years pass, we believe 2018 will be heralded as one of the great, Great Southern vintages.
The Great Southern wine region is a premier wine growing region of Western Australia. The botrytised gewürztraminer and chardonnay grapes were picked in March 2018. The wine was picked and gently de-stemmed and had skin contact for 5 days. It was then pressed and settled, allowing a wild yeast fermentation to start, the fermentation ceased at 140 grams per litre. The wine was bottled in July 2018.
THE WINE
The wine displays aromas of apricot, mandarin and dried orange peel. It is medium bodied, with a richness and textured mouthfeel yet with a delicacy at the same time. It has complexity and length of flavour with a good acidity to finish.
REVIEWS OF NOTE
2018 Vintage
92 points, Ray Jordan, Western Suburbs Weekly, Jan 2019
92 points, Huon Hooke, The Real Review, Jan 2019
91 points, Steve Leszczysnki, QWine, Nov 2018
2014 Vintage
90 points, James Halliday, Australian Wine Companion, Jul 2015
4 stars, The Sunday Times, Tony Love, Jan 2015
"A class act", Vinonotebook, Oct 2015