2016 Singlefile Single Vineyard Frankland River Shiraz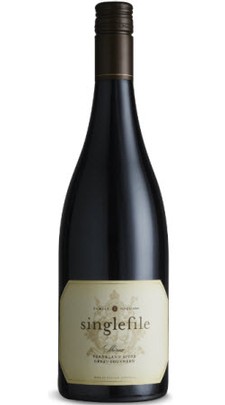 VINEYARD & WINEMAKING
Frankland River is arguably the premier shiraz growing sub-region of Western Australia and is recognised for its distinctive black fruit and black pepper characters. Shiraz from the Riversdale vineyard, planted in 1997, delivers some of the best Frankland River shiraz with characteristics expected of fine Frankland River fruit.
Early 2016 saw a dry and warm summer with some big rains in late January 2017. These provided plenty of water for the vines, providing excellent growing conditions which resulted in high quality juicy, fresh and vibrant shiraz. Ripeness was achieved at relatively low sugar levels. After picking and sorting fermentation took place in open fermenters and maceration was gentle and lasted for 40 days with minimum pump-overs. The wine was then aged in low toast French oak barriques for ten months and aged in bottle for a minimum of seven months prior to release.

THE WINE
This wine displays vibrant violet and dark fruit and subtle spice aromas. The medium bodied palate displays flavours of blackberry, pepper, spice and tobacco with hints of cocoa which persist through to a dry finish. It is a medium bodied style shiraz of power and complexity but with silky tannins and a refined delicacy.
REVIEWS OF NOTE
2016 Vintage
93 points, Campbell Mattinson, The Wine Front, May 2018
18+ points, Barry Weinman, Fine Wine Club, Apr 2018
93 points, QWine, Mar 2018
2015 Vintage
95 points, James Halliday, Australian Wine Companion, Aug 2017
92 points, Campbell Mattinson, The Wine Front, Apr 2017
92 points, QWine, Apr 2017
2014 Vintage
95 points, James Halliday, Australian Wine Companion, Aug 2017
2013 Vintage
95 points, James Halliday, Australian Wine Companion, Aug 2016
'Beautifully Poised', Regan Drew, Vinonotebook, Jul 2016
92 points, Huon Hooke, The Real Review, Sep 2015
2012 Vintage
95 points, James Halliday, Australian Wine Companion, Jul 2014
93 points, Ray Jordan, The West Australian, Aug 2015
18.3 points, John Jens, Western Suburbs Weekly, May 2015
18 points, Barry Weinman, Fine Wine Club, Aug 2014
Highly Recommended, Lester Jesberg, Winewise Bulletin, Jun 2014
2011 Vintage
95 points, James Halliday, Australian Wine Companion, Jun 2013
93 points, Mike Bennie, Wine Business Magazine, Mar 2014
18 points, Barry Weinman, Fine Wine Club, Jan 2013
91 points, Ray Jordan, The WA Wine Guide, Oct 2013
Blue Gold, 2014 Sydney International Wine Competition, 2014
Gold, Cowra Wine Show, 2013
2010 Vintage
93 points, James Halliday, Australian Wine Companion, Jul 2013
94 points, Andrew Graham, Australian Wine Review
93 points, Campbell Mattinson, The Wine Front
93 points, Ray Jordan, The WA Wine Guide
92 points, David Prestipino, Sunday Times Magazine
18.3 points, Erin Larkin, Western Suburbs Weekly

Wine Specs
Appellation
Frankland River