9 February 2016 | Patrick Corbett
Meet Singlefile's Senior Winemaker, Coby Ladwig
Allow us to introduce you to Coby Ladwig, Singlefile's esteemed senior winemaker.
Coby is a Denmark boy through and through. After graduating from Perth's Curtin University in 2002 with a degree in Viticulture and Oenology, he returned to his hometown to realise the potential of Denmark as a producer of outstanding wine. Coby spent five years winemaking with West Cape Howe Wines before moving to Matilda's in 2007 where he was involved in designing and building the winery and where some Singlefile wines are now made.
Coby has worked closely with Patrick Corbett on vineyard site selection and carrying out extensive wine trials. He is committed to Singlefile's philosophy of identifying the best sites and sub-regions for each variety to make exceptional Western Australian wines.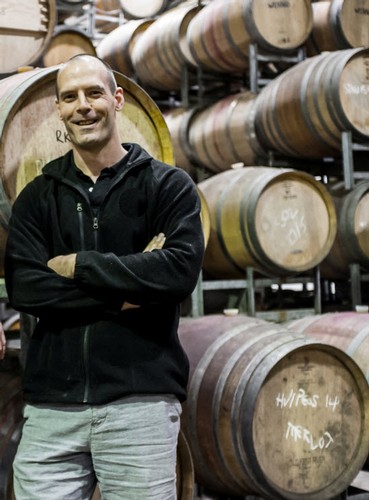 We asked Coby a few questions about his winemaking philosophy.
Q. Which Singlefile wine takes pride of place on your dining table?
A. Singlefile Single Vineyard Denmark Pinot Noir
Q. What is your personal winemaking philosophy?
A. Get it right in the vineyard to begin with. Respect the fruit but also add layers with careful use of oak. Never just put something into bottle – always go the extra mile to make sure the best wine is to be bottled, whether it is for entry-level wines or iconic wines.
Q. Does that differ from Singlefile's winemaking philosophy?
A. No I don't think so.
Q. Why did you begin working in wine?
A. I grew up around vineyards and thought it would be a great vibrant field to work in, which is exactly what it turned out to be.
Q. If you could do anything other than work in wine, which industry would it be?
A. I have pondered this question over the years and still have no idea. I did do a full year of studying zoology before moving into winemaking, so this would probably be the field that interests me.
Q. If you could drink any wine right now, what would it be?
A. If I had the opportunity to try a Château Lafite Rothschild I wouldn't say no!
Q. What are your favourite varieties to drink?
A. I drink anything. Chardonnay and Cabernet seem to be the flavour of the moment.
Q. What are your favourite varieties to make?
A. Chardonnay is fun and Pinot is always a challenge but rewarding when you get it right.
Q. What makes Singlefile's wines stand out from the rest?
A. Singlefile boasts such a great fruit resource. It's very consistent, year to year.
Q. Do you think consumers value regional distinctions?
A. Yes, as it makes for so many diverse wines. Wine just can't be boring because every winemaker seems to have a slightly different take on how a wine should be made and every vineyard has its own distinct characteristics.
Q. What's the winery to watch in Australia?
A. Without too much prejudice, I would have to say wineries located in the Great Southern, and especially Denmark. The quality of wines coming out of wineries down here is immense and we are all kicking goals on a national scale.
Q. Apart from Singlefile, which other wineries do you most respect?
A. Moss Wood has always done exceptionally well. Paringa Estate really nails making Pinots and Clonakilla makes a killer Shiraz.